"Peace every where in the world"

Islamabad, Pakistan
male, age 49
married
Speaks: English as a 2nd Language, Urdu
Joined Sep 25, 2009





What can be worse than a homeless kid?
Many men cry Peace! Peace! but they refuse to do the things that make for peace.
Martin Luther King, Jr
Peace has to be created, in order to be maintained. It is the product of Faith, Strength, Energy, Will, Sympathy, Justice, Imagination, and the triumph of principle. It will never be achieved by passivity and quietism.


"Dorothy Thompson"
Women Rights
Freedom ... Justice ... Equality





Right to freedom of expression






Stop Animal Experiments and Killing






Pray For Religious Tolerance And Peace





Choosing the Right Educational Path for Your child






Violence against women has the ability to destroy families, communities, and nations.




The very existence of extreme poverty in a modern world is our collective shame as human beings. The fact that we have chosen not to see this problem for so long. Extreme poverty is not about poor or having nothing, extreme poverty is about being invisible, being nothing.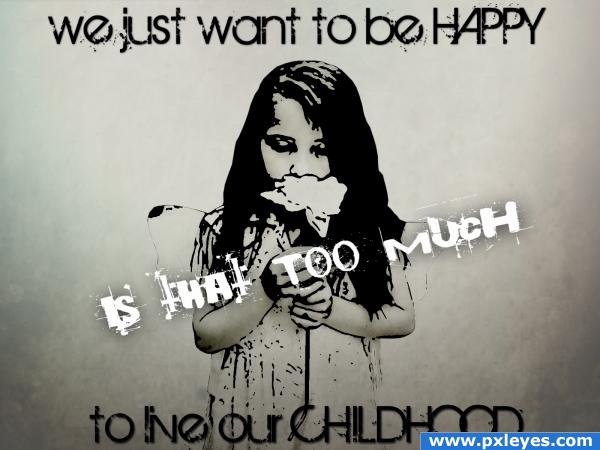 "We the Peoples of the United Nations, determined to reaffirm faith in fundamental human rights, in the dignity and worth of the human person, in the equal rights of men and women and of nations large and small..."
—United Nations Charter-
"All human beings are born free and equal in dignity and rights. Everyone is entitled to all the rights and freedoms set forth in the universal Declaration of Human Rights, without distinction of any kind, such as race, creed, color, sex, language, religion, political or other opinion, national or social origin, property, birth or other status. Everyone has the right to life, liberty and security of person."
"We must understand the role of human rights as empowering of individuals and communities. By protecting these rights, we can help prevent the many conflicts based on poverty, discrimination and exclusion (social, economic and political) that continue to plague humanity and destroy decades of development efforts. The vicious circle of human rights violations that lead to conflicts-which in turn lead to more violations-must be broken. I believe we can break it only by ensuring respect for all human rights."
The Framers of the Bill of Rights did not purport to "create" rights. Rather, they designed the Bill of Rights to prohibit our Government from infringing rights and liberties presumed to be preexisting. ~Justice William J. Brennan, 1982
Whenever I hear anyone arguing for slavery, I feel a strong impulse to see it tried on him personally. ~Abraham Lincoln
I would remind you that extremism in the defense of liberty is no vice! And let me remind you also that moderation in the pursuit of justice is no virtue.
~Barry Goldwater
Give to every human being every right that you claim for yourself.
~Robert Ingersoll
Silence never won rights. They are not handed down from above; they are forced by pressures from below. ~Roger Baldwin
Joined
Sep 25, 2009
Activist Aspirations
undeclared
Here for
Meeting Friends, Professional Connections, Support a Cause
Group Host of
none yet
Groups
40-60 plus-Friends Group, Across The Universe..Peace in Friendship, Ancient and Modern Cultures, C2NN..Your Daily News.., Caring & Compassionate Friends, DUO for World Peace, Dog Lovers, I~Promote, ORANGUTANS: Men of the Forest, One World Family Of Friends
Hometown
Homepage
Birthday
Sept 19, 1968
Languages
English as a 2nd Language, Urdu
About Me
very liberal
Introduce yourself to Anis
Lifestyle
Pets
4 Dogs, 2 Cats, pigeons. without pigeonry
Activist Aspirations
Political Leaning
Liberal
Religions
Moderate, Islam
Eating Habits
LOTS OF TEA
Wild Fact About Me
A man of patience
My Philosophy
LIve and let live
What Gives Me Hope
Struggle
If I were Mayor, I'd make the world a better place by
Try to enforce free education for every one
What/who changed my life and why
Each & every thing which based on reality
What Bugs Me
injustice, any one that would hurt a woman, Any one that would hurt an animal, hypocrisy, Those who hurt others weaker than them, liars, abusive people
Passions
Jouralism, peace, my friends, writing, animals, photography
Inspirations
peacemakers, good people
What Scares Me
War - Cruelty - Greed - Indifference, Violent people, Religious Extremism, Disrespect for others, abusers
Favorites
Role Models
my father
Quotation
Love for all hate for non
Interests
labradors!, Journalism, world peace, world politics, current affairs, photography, wildlife, friendship, art movies, internet
Books
history, true stories
Music
all kinds
Movies
The reader, ForestGump, Titanic(Leonardo and Kate version), Gone with the Wind, Dances with Wolves, unfaithful, Pretty Woman
TV Shows
Discovery Channel, current affairs programs, Oprah Winfrey Show, Desperate Housewives, Animal Planet
Favorite Foods
Tea oh yes and more Tea, salad, rice, pizza, coffee, fish, chinese
Favorite Places
nature, my room, mountains, lakes, beach
Can't Live Without
peace, my dog, freedom
Introduce yourself to Anis
My Butterfly Rewards
Most recent activity (up to 500 gifts shown)
---
I've earned Butterfly Credits