One World!

...you may say I'm a dreamer,
but I'm not the only one.
I hope one day you'll join us
and the world will live as one!
John Lennon, 1971





G I V E P E A C E A C H A N C E!





we miss you...!









~ ~ ~ ~ ~ ~ ~ ~ ~ ~ ~ ~ ~

Revelation chapter 22, 12-14




I love all my friends, coz...

L..O.V.E. i s t h e m e s s a g e a n d t h e m e s s a g e i s LOVE!

..LOVE is old, LOVE is new,
LOVE is all, LOVE is you!
"The greatest thing we will ever learn is just to love and be loved in return"

...I don't care too much for money, 'cause money can't buy me love!
...take these broken wings and learn to fly
All your life - you were only waiting for this moment to arise.
...take these sunken eyes and learn to see
All your life - you were only waiting for this moment to be free...
The Beatles (Blackbird / 1968)
There is no way to happyness
- happyness
is
the the way!
the buddha
"Herr, setze dem Überfluss Grenzen und lasse die Grenzen überflüssig werden.




Gib den Regierungen ein besseres Deutsch und den Deutschen bessere Regierungen.
Schenke unseren Freunden mehr Wahrheit und der Wahrheit mehr Freunde.



Bessere solche Beamte, die wohltätig, aber nicht wohl tätig sind und lass die, die rechtschaffend sind, auch recht schaffen.

Sorge dafür, dass wir alle in den Himmel kommen, aber noch nicht gleich."
"Bergische Volkszeitung" 1864/65 (german newspaper)


"It is poverty to decide that a child must dieso that you may live as you wish."
Mother Theresa




Please visit:















We Can Be Forever Young
Youth is not a time of life - it is a state of mind, it is a temper of the will, a quality of the imagination, a vigor of the emotions, a redominance of courage over timidity, of the appetite for adventure over love of ease.
Nobody grows old by merely living a number of years; people grow old only by deserting their ideals. Years wrinkle the skin, but to give up enthusiasm wrinkles the soul.
Worry, doubt, self-distrust, fear and despair - these are the long, long years that bow he head and turn the growing spirit back to dust.

Whether seventy or sixteen, there is in every being's heart the love of wonder, the sweet amazement at the stars and starlike things and thoughts, the undaunted challenge of events, the unfailing childlike appetite for what next, and the joy and the
game of life.

You are as young as your faith, as old as your doubt; as young as your self-confidence, as old as your fear, as young as your hope, as old as your despair.

So long as your heart receives messages of beauty, cheer, courage, grandeur and power from the earth, from man and from the Infinite, so long you are young.
When the wires are all down and all the innermost core of your heart is covered with the snows of pessimism and the ice of cynicism, then you are grown old indeed and may God have mercy on your soul.
Author Unknown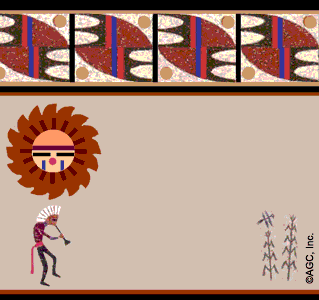 In the beginning of all things, wisdom and knowledge were with the animals, for Tirawa, the One Above, did not speak directly to man.
He sent certain animals to tell men that he showed himself through the beasts, and from them and from the stars and the sun and the moon man should learn.
Tirawa spoke to man through his works, and the Pawnee understands the heavens, the beasts, and the plants.
For all things tell of Tirawa.

Pawnee (true american tribe)


Es ist unsere kleine Welt - wir haben nur "die Eine".
Es liegt an uns, sie für unsere Kinder zu bewahren.