"Skylla"

Cumberland, MD, USA
female
married, 1 child
Speaks: English
Joined Mar 11, 2000


Causes: health care, Corporate Responsibility, anti-hunting, Food Safety, Endangered Species, Environment, Animal Welfare, Literacy, Consumer Rights, Organic Standards, Peace & Nonviolence, Religious Tolerance, Pro-Choice, Evolution, Womens Rights, Against Violen

Activities: yoga, Astronomy, Listening to Music, Symphony, Opera, Magic, Reading, Collecting Books, Driving, Dance, Gardening, Writing, Trivia





Hope to do my own small part in making the world a better/cleaner/safer place for all living things. I love wildlife (and feel it should be wild, not caged), enjoy nature & feel it should be protected & it's interests should be put ahead of those of corporations.

The world is a beautiful, awe inspiring place but at risk as well - we all need to spread the word about websites such as this and pass on information to keep our earth and all her creatures safe & free.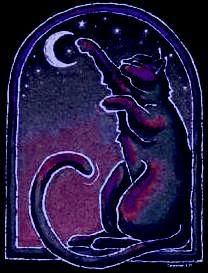 Joined
Mar 11, 2000
Activist Aspirations
Enthusiastic
Here for
Meeting Friends, Support a Cause
Group Host of
none yet
Groups
A WOMANS BEAUTY & HEALTH CRUELTY FREE!, Cat Lovers, DNC - Democratic National Committee, Defenders of Wildlife Action Fund - Electing Pro-Wildlife Leaders, Jane Goodall Institute: Race for the Primates, Pets in Need, Protect Arctic Refuge, Race for the Big Cats, Race for the Rainforest, ThePetitionSite Center
Hometown
Homepage
http://www.angelfire.com/md/skylla
Birthday
Feb 04
Languages
English
About Me
Love nature, animals, peaceful places - somewhat normal w/ a weird/wild side :)
Introduce yourself to Skylla
Lifestyle
Pets
6 cats, 6 Cats and 1 Dog
Activist Aspirations
Enthusiastic
Political Leaning
Liberal
Religions
pagan, earth religions, wicca, Wiccan/Pagan/Celtic, witch, Wiccan/Pagan/Earth Spirituality, Wiccan/Pagan/Druid, Wiccan / Pagan, wiccan
Eating Habits
vegetarian, vegetarian working on vegan
Wild Fact About Me
My Philosophy
Hold our Mother Earth in the highest regard, treat all living things with love and respect.

'and ye harm none, do what ye will'
What Gives Me Hope
Knowing there are people who are willing to try to make a positive change!
If I were Mayor, I'd make the world a better place by
Put environmental concerns first, ahead of all else. Because people fail to realize that once Mother Earth is thoroughly destroyed and gone - so are we.
What/who changed my life and why
My daughter
What Bugs Me
cruelty, liars, The destruction of rural areas, work
Passions
family, my pets, nature, music, earth, animals
Inspirations
music, the beauty of nature, goddesses
What Scares Me
Losing the ones I love, Is how cruel the people of the world are
Favorites
Role Models
Mom
Quotation
"Nature is painting for us, day after day, pictures of infinite beauty."
- John Ruskin (1819-1900)

Until he extends his circle of compassion to include all living things, man will not himself find peace.
-Albert Schweitzer (1875-1965)
Interests
Spirituality/Philosophy, movies, environment, History, Computers, Books, Music, classic cars
Books
mystery, history, wiccan/pagan, Spiritual-Metaphysical-Mystical-etc
Music
Classic Rock, classical, Led Zeppelin, All-but not too fond of country & rap
Movies
drama, horror, action, comedy
TV Shows
Namaste Yoga, Movie Channels, History Channel & Discovery Programs, Animal Planet
Favorite Foods
Salads & pastas
Favorite Places
woods, mountains, home
Can't Live Without
Family, Pets, Music, Books & Love
Introduce yourself to Skylla
My Butterfly Rewards
Most recent activity (up to 500 gifts shown)
---
I've earned Butterfly Credits