"Save the world or find a pair of well fitting jeans"

Joensuu, Pohjois-karjala, Finland
female, age 27
committed relationship
Speaks: Finnish, French, Swedish, English, Spannish
Joined Nov 13, 2009





I am a university student from Finland, I study English as my major, French as a minor.

My friends call me either Mapu or Hobbit (I am really short :D). I have one cat named Severus, my little spoiled fur ball.
If you want to know more about me don't be shy.:D See ya!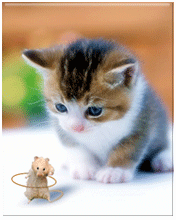 Joined
Nov 13, 2009
Activist Aspirations
Casual
Here for
Meeting Friends, Support a Cause
Group Host of
none yet
Groups
AmericanForests.org, Amnesty International, Assistance to the Incarcerated Mentally Ill, C2NN..Your Daily News.., Cat Lovers, Elephant Lovers, The Addiction to Tattoos, The Garden Center, Ursa Freedom Project, WWF - World Wildlife Fund, World Without Frontiers
Hometown
Homepage
Birthday
March 15, 1991
Languages
Finnish, French, Swedish, English, Spannish
About Me
Happy, friendly and temperamental
Introduce yourself to Marianna
Lifestyle
Pets
1 Cat
Activist Aspirations
Casual
Political Leaning
Liberal
Religions

Eating Habits
Almost anything... :)
Wild Fact About Me
I am the most accident prone human being you will ever meet
My Philosophy
Worrying doesn't help. Do something.
What Gives Me Hope
Friendly and considerate people
If I were Mayor, I'd make the world a better place by
Educate people
What/who changed my life and why
What Bugs Me
ignorance
Passions
photography, books, art, animals
Inspirations
nature in all forms
What Scares Me
cruelty
Favorites
Role Models

Quotation
"PUDDING!!!!!"
Interests
reading, psychology, photography, movies
Books
and many, many more, , Three Musketeers, The Help, The Hobbit, Bram Stokers Dracula, Harry potter and Stephen King books, Nancy, Harry Potters
Music
Latino music, Jazz, Blues, Mozart, Verdi, Pink, Old hits from Michael Jackson, Old hits from Madonna, Marilyn Manson, Linkin Park, all kinds
Movies
So many more, Pirates of Caribbean, Forrest Gump, comedy, The curse of the golden flower, Yamato, The Battle of Britain, Blade movies, Devil wears Prada, Indiana Jones movies (not the last one), The Mummy- movies, Arabian Lawrence
TV Shows
Emmerdale (yes, I am serious), Supernatural
Favorite Foods
if it's food, i'll eat it
Favorite Places
forest, the ocean
Can't Live Without
laughter, friends
Introduce yourself to Marianna
My Butterfly Rewards
Most recent activity (up to 500 gifts shown)
---
I've earned Butterfly Credits