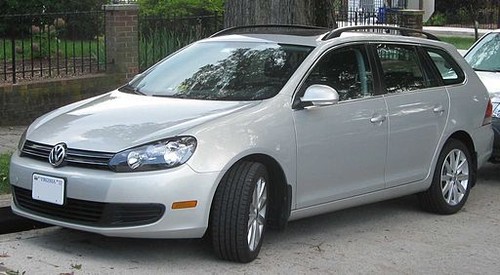 2. Volkswagen Jetta TDI
Nearly half of all 2012 sales of clean diesel vehicles are represented by the Volkswagen Jetta TDI. At a base MSRP of $22,990, the clean diesel Jetta sedan undercuts the price of all Prius models, except the wee Prius C. At the same time, it packs a bigger punch of torque than the hybrid can muster. This performance comes with little sacrifice regarding highway fuel efficiency, delivering 42 MPG on the highway.
For another $2,500 or so, green consumers can opt for the Sportwagen version of the Jetta TDI. This adds a generous amount of cargo space to an already compelling package of fuel efficiency, great handling, and speed off the line. In 2012, the Jetta TDI Sportwagen is selling at twice the rate of the next most popular clean diesel vehicle, the Passat TDI also from Volkswagen. Through July, VW has sold almost 30,000 units of the clean diesel Jetta.
Photo Credit:†IFCAR (Own work) [Public domain], via Wikimedia Commons