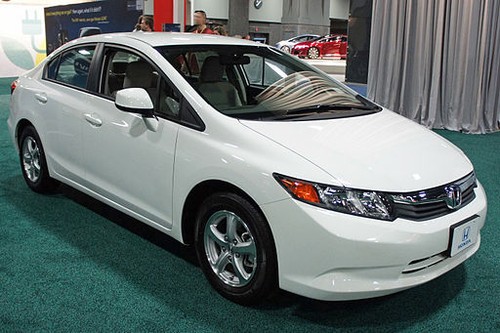 4. Honda Civic Natural Gas
Why is the Civic Natural Gas the obvious people's choice for cars that run on CNG? Because it's the only new car that runs on CNG, a gaseous fuel that burns very clean. The Civic CNG, starting at an MSRP of $26,305, was awarded the prize of 2012 Green Car of the Year, issued at the Los Angeles Auto Show.
Honda has been offering the Civic Natural Gas (previously the Civic GX) for nearly 15 years. But in a pitch for greater popularity, this year's model was upgraded to feature more creature comforts, such as better interior materials, high quality audio and infotainment, and cruise control.
It requires a bit of homework to determine the closest location for refueling with CNG. But that research is rewarded with lower fuel costs—the equivalent of about $2.00 a gallon in many parts of the country—as well as greatly reduced emissions. While you're conducting your research, you should investigate the controversial environmental issue of hydraulic fracturing or fracking—to form your own opinion on the subject.
Photo Credit: Mariordo (Mario Roberto Duran Ortiz) (Own work) [CC-BY-SA-3.0], via Wikimedia Commons
Related:
3,108 Miles Per Gallon for Chevy Volt
Top 10 Most Fuel-Efficient New Cars
8 Ways to Green Your Ride