Professionals who use cannabis October 23, 2007 10:37 AM



This post is to affirm that cannabis users aren't a bunch of burnouts that are a drain on society, but are professionals that contribute to their communities and society as a whole.

I'll be the first to give my credentials (for lack of a better word).

I am currently a small business owner in California. I actually have 2 businesses. The first is a Property Damage Restoration Company that specializes in mitigation and restoration of properties damaged by water, fire, mold, and trauma. The second is an Internet based leadership development company that directs product and service flow though groups of people.

Before venturing into the world of business, I was an elementary school teacher for 6 years. I taught 4th grade and was recognized by the administrators of my school district for excellence in teaching and service to my school. I was the 4th grade Math Team Coach, Science Fair Coach, Literacy Connection Facilitator, and Migrant after school education teacher. I also served on the schools leadership team and helped develop the school plan.

Prior to teaching, I worked for the United States Forest Service as lead recreation technician. I was envolved in trail planning, building, maintenance, and law enforcement (yah, I know!). I helped coordinate volunteers for various projects and worked on the logistics team during local fires.

I have been smoking cannabis for the past 24 years with no ill effects and no harm done to anyone else.

As stated, this post is to affirm that cannabis users are, in fact, well adjusted people whose only crime is partaking in a natural, god-given substance that has many benefits and no REAL harmful effects.

Please post your profession / carreer as well as any thoughts about this post
[
send green star]
October 23, 2007 3:42 PM

Prior to teaching, I worked for the United States Forest Service as lead recreation technician. I was envolved in trail planning, building, maintenance, and law enforcement (yah, I know!). I helped coordinate volunteers for various projects and worked on the logistics team during local fires. *GASP!*....Not only is Alex an ex-cop, he's an ex-Fed!
That's okay, man, I forgive you. Everybody needs to earn a living!, and you're one of us!
Speaking of earning a living...... I quit School the same month I got high for the first time. I tuned in, turned on and dropped out. My parents were the opposite of happy. A year and a half later, in June 1980, Dad and I started a para- legal business that we ran from a spare bedroom in the house. I was the co-owner, and at one point I was supervising three employees......all while staying high as a kite every waking moment. I was smoking at least an ounce and a half a week. And, like George Thorogood, when I smoked alone, I preferred to be by myself. At the best of our success, we had 55 active clients located in Los Angeles, Orange, San Bernardino and Riverside counties. Now, my Brother Alex can vouch for me on this, but that's a large piece of real estate. During that period of success, we were making between 125K and 140K a year. A long and ugly story I won't go into: Dad died of cancer in 1994, I sold the business to my brother, and my mother and I relocated to Northeast Tennessee in 1995. In desparation, and knowing nothing about Tennessee law, I took the first job I could find here, which was working in convenience stores....yeah, I know, sounds like a burger-flipper job, but I loved it, and stayed at that until the summer of 2003. Oh, btw, I established my first pot connection about 4 months after moving to this nobody-ever-heard-of-it burg, which is way-to-hell in the back of beyond. Within a year, I had 8 or 10 different people I could count on for a supply, and I was smoking pot in the stores where I worked. It was the worst kept secret in town. No one gave a damn, because in Greene County, Tennessee, there are more people who smoke pot than those who don't. I kid you not. By 2003, I'd been at it for 8 years, and was ready for another change. Also, in the mid-terms in 2002, Tennessee approved a state lottery, and the stores I worked in were planning on selling tickets, I have severe problems with gambling and state lotteries, and I wanted no part of it. It was time once again to find something else to do for a living. Cooking is the only serious hobby I've had since I was a kid. It explains why I've been fat all my life, but again, that's another story. When I left the convenience stores, I got a wild hair to find out if I had enough game as a chef to do it for a living. I walked into the second-best restaurant in this county, a fine-dining place called Azalea's. I asked for an application, filled it out, interviewed with the co-owner and Executive Chef, Kris Golden, and was hired on the spot, all in less than an hour. After my first day of work at Azalea's, when we were cleaning up from the lunch seating, Chef Kris called me outside to have a cigarette with him. Kris was 27 at the time, and I was 42. He congratulated me and thanked me for a good day's work. He paused for a moment, then quite suddenly, he says, "Mister Redfern, a question for you, sir." "Yes, Chef?", I said. Kris looked me in the eye and said, "Do you smoke Herb?" I looked down at the ground as I started laughing. I looked back up and said, "Kris, man, I've been smoking Herb since you were still shi**ing yellow in your didies." He started dying-laughing, then said, "Well, I just want you to know that everyone you worked with in the kitchen today including myself is also a stoner." (There were about 8 to 10 others) Kris then grinned and extended his hand for a shake and said, "Welcome to my world!". I stayed with Kris for six months and was offered an Executive Chef job at an Italian place across town called Augustino's. One year before I had to retire, I was offered a job at a restaurant called Brumley's, which is located inside The General Morgan Inn and Conference Center in Greeneville. In this county, for a chef, cooking at Brumley's is the summit of Everest. It gets no better. Have a look at their website, but if you run across the profile of Executive Chef Aaron Dawson, pay no attention to him. Th guy is a prima-donna and, as Stephen King would say, "the asshole that walks like a man". Here's the link: http://www.generalmorganinn.com Well, I've been retired for a year, this coming Saturday. Please see my post in the other thread to see why I'm retired. Marijuana is now medicine to me, and not just my Sacred Sacrament. Marijuana relieves the symptoms of these diseases I have. while also keeping me peaceful and serene. I love the idea for this thread, Alex. There are millions of stories like ours; people who smoke large quantities of Marijuana and are still able to contribute to society, CREATE JOBS, for God's sake!!, and not be the burned-out, couch-potato "Hey Dude Where's My Car' kind of waste-of-space everyone thinks of when they think of pot-smokers. Blessed Be, Everyone! WAGE PEACE FREE THE WEED!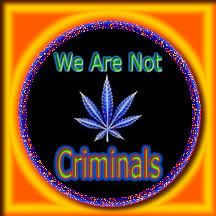 [
send green star] [
accepted]
November 08, 2007 3:10 PM


 Please introduce yourself and show the world that we are productive, healthy, peaceful citizens. [
send green star]