how can I be a member?
Of course, a member at distance as I am living in Brazil and at a city where to bike is particularly dangerous... I started with bike as kid, I cannot remember the age, but perhaps I was 6, an orange raleigh, it was particularly strange as color for a bike. Today I am 72 and I have gone bike for several cities world wide, England, at Oxford, Uppsal for more than 7 years the year around, yes, sliding in the snow with two kids to the school. Grenoble, Aveiro, Maringa (in Brazil) and now afraid of biking in Sobral (Brazil). Unfortunatelly a car driver the most of time because biking is the liberty itself - to have a flirt while biking is phenomenal. Send me an invitation, please.
Good evening everyone. Happened to come across this group purely by accident but glad I did seeing as how I'm a major fan of recumbents and bikes in general. So until recently I was riding this beauty Bacchetta Giro 20 after ditching my Hyundai while working as a self employed contractor. You've heard the story before, I'm sure. High gas prices, crazy insurance premiums, insane parking tickets and yada yada yada.
So I have no clue how much I originally dropped on the bike, but we all know the good stuff doesn't come cheap, right? So overall I'd say I was very pleased with the bike's capabilities. lol are you kidding me? That was some of the most fun I've ever had on 2 wheels. I'd ride it every morning to school and back. That's a 60km round trip of pure unadulterated adrenaline. No matter how tired or sleepy I'd be in the morning, as soon as I'd lay back and the gears were in motion there was no stopping. After a couple years though I decided to part ways with the Giro. First it was no longer as convenient enough to ride it in the city core that's dominated by lots of traffic. Half the time drivers can't even see you, much less the other half of the time constantly being paranoid, looking over your shoulder to see if some lunatic wants to ram into you. It really is a hassle considering you're not sitting on a cheap piece of technology. Parks, beaches, cemetery and forest trails, etc.. on the other hand, yea those are all awesome places to ride at. And secondly it stands out way too much. Thieves know these babies don't come cheap, and if they can't steal it, they won't hesitate to put a dent in your carbon frame.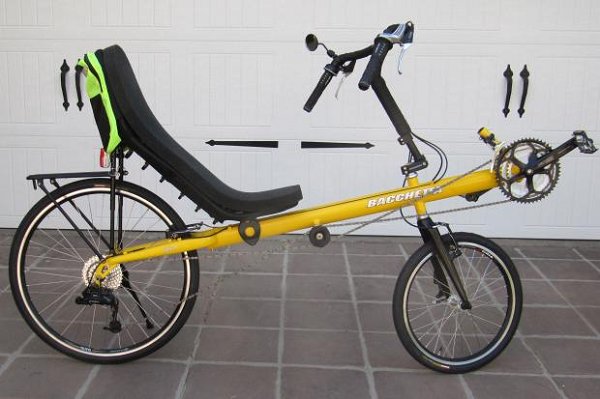 So given the situation I was in, I decided to switch to something more portable, light and overall just simple, and suddenly fell inlove with the road Trek.
Sure it's not a recumbent, but hey it's still certainly fast as hell, super light, can carry it on my shoulder no problem, does not attract so much attention, does not require as much maintenance, and the list goes on and on. So I don't know.
It's amazing the way you get into things. I mean, was just a kid at the time. Was my first very own brand new car. At times you'd be sitting in that brand new car and feel like a million bucks, knowing how cool it feels to finally have your own set of wheels. Then one day something happens to you. You ride your bike into the park, lay on the bench somewhere deep in the woods and slowly fall asleep to the fresh pure air. You wake up 2 hrs later and realize what you've been missing all these years. A tree hugger's rebirth and a disdain for how society mistreats the earth. I guess you can say, a picture is worth a thousand words. Need I say more?
This post was modified from its original form on 13 Oct, 18:15
Arrggghhh
So the new E-bike came in by FedEx since the local shops were very thin in selection. I put the bike together and as the frame is a folding configuration there was very little to do...wheels were on, cables attached and wheels/motor all hooked up.
After a unpowered test and a charge to the battery I tried out the powered life.
The first week was fine tho I noticed a lack of range (about 1/3 of stated distance/battery life). I got in the habit of carrying the charger to zap at each end of the commute (7miles or 1/5th of stated range) and it took about 1/2 a charge each end.
Then 2 days into week 2 I was half way home when I noticed the last of the screws anchoring the front disc for the disc brakes had loosened and by the time I stopped it had disappeared as well.
So a couple of phone calls and e-mails I got a promise to send replacement screws and a 'free' barbag to aleviate their guilt. When the screws arrived there were 2 different lengths so I fitted them into the holes and began tightening them till I noticed the wheel was locking up and with one turn I hear a metalic 'pop'. So I remove all the long screws and check the rear wheel disc and lo and behold the rear wheel has thru holes to mount while the front has blind holes into the motor casing. The screws they sent were too long, and now I terrified I may have crunched the motor housing innards.
Alas this was Friday night so I get to twiddle my thumbs and worry till Monday's reply...
I had such high hopes that I'd given the technology enuf time to at least get their %#&!*% together and build their own competence if not the product's quality...but NOoooo, they still have their heads up their a$$e$ and haven't mastered basic manufacuting techniques and service skills.
Well next week I find out if this company is serious about solving my complaints or if I gotta get in their face and just give up and send the bike back as a failed experiment.
Sighhh
Jeff
The Chicagoan
This post was modified from its original form on 05 May, 22:19
Next Generation bike purchase
Tho not accepted (yeh No B. made some derisive comments...no offence taken No B.) I have made the plunge into the E-bike realm. This Wednesday I should recieve my new Champion 'Strom' 300w 9Ahr folding bike. A 26inch wheel fat tire (1.75 I think) trail style bike, LiFe battery with a rated 35mile range...hey I can hope...
This will allow the veritible mothballing of my Civic except for hauling the bike to distant recreational opportunities. As a folder it should also be welcome as an easy ride along on trains so even less use of the car is on the horizon.
So I'll be posting a view of the future as soon as I get a feel for how the e-bike fits into my transit plans.
Jeff
The Chicagoan
As a co-Host here I better step up and say "Howdy".
I was a slow learner and didn't start riding till my teens. Then I rode bikes I modified myself from 'angel bars' to extended forks I played with many visual changes in my youth.
When I moved to California the 2nd time I bought a cheap mountain bike (friends don't let friends ride Huffy's) and got the off road bug. Upon returning to Chicago I had dirt trails in the green necklace of Forest Preserves to play in where I dragged several friends out to ride.
I also have amassed a couple other bikes for riding the streets of Chicago which have become more and more bike friendly with a riding mayor and now a progressive mayor with a new crop of aldermen supporting his policies.
So having bought and lost a great Fisher mtn bike which I replaced with another Fisher (alum frame, Judy RockShock fork, GripShift) and a road bike frame I bought from my brother (steel frame upgraded to 700C wheels and STI shifters) and reequipped as well as a commuter/utility bike (aluminum frame, 9speed rear only derailluer, GripShift) assembled by a company called MadWagon.
All my bikes are diamond frames but I have been toying with a electric hybrid concept which I might go either recumbent or trike recumbent but it may be a while since I am a victim of the economy and have no job security of late.
The future of bicycles seems to hold many options and hope for health of both people and the environment as well as social advantages in getting people out and interreacting instead of isolated in metal cages at extreme speeds.
Support good roads for bikes...
Jeff
The Chicagoan
hi Ian
Congrat's on being car free for almost 40 years and awesome achievement
This post was modified from its original form on 09 Nov, 15:57
Hi folks!

I've been a cyclist for 40 years. learned to bike in England, so I learned to cycle on the road without fearing traffic. I have never owned a car - drove one once when my wife was teaching me. I am car-free and proud of it. I'm a commuter in that I bring my daughter home from school every day and I'm an occasional bicycle tourist, having cycled 10,000 miles throughout Western Europe and so far, since moving to the US, only a 60 mile trip on a weekend this last June.

I recently passed the League of American Bicyclists Instructor exam and took the Instructor course, though I chose not to become an LCI.

I ride a Jamis Avalon as my day-to-day bike, most often with a Trail-a-Bike attached to the back for my daughter. I also own four Raleigh Grands Prix in various states of repair, just in case one of my friends/family wants to borrow a bike.

My dream bike is a 1980s silver Motobecane Super Mirage - the bike I used for my two European tours. I foolishly sold the bike in Salzburg over 20 years ago and I've wanted to find a replacement for it ever since.
This post was modified from its original form on 09 Nov, 9:18
In my town, they are starting to make the streets more "bike-friendly." It's still hard to get around in some areas, but the difficulty is well worth it. I bike to college everyday, and bike to work. I have never owned a vehicle, and with the price of gas these days alternative modes of transportation seem to be on the rise (at least in my area). In my town, public transportation is a joke and it is often faster (and more efficient) to travel by foot or pedal. Thanks for inviting me to this group!!
Thanks No. B. , I googled the bike and it looks awesome, but where I live there aren't many bike tracks and car drivers are all d-bags
I only use public transportation and walk on foot wherever I can.
hi Ioana
I suggest that you buy a recumbent trike as your first bike. No need to learn the balancing as you have three wheels. No need to take your feet off the pedals at stopping points on your journey. The best recumbent trike on the market are the Greenspeed
Hey, I just received the invitation to join the group
. Unfortunantly I don't know how to ride a bike...
Anonymous
My first paragraph didn't come through here it is.

I am a life long biker and prefer the diamond frame road bike although I have a full suspension dirt bike for off road excitement. I'll comment on a few of the topics I've seen in this group:
Anonymous
I am a life long biker and prefer the diamond frame road bike although I have a full suspension dirt bike for off road excitement. I'll comment on a few of the topics I've seen in this group:

I see the recumbent bikes shown have a semi reclined position that is good, a lot of recumbent bikes have a bolt upright position which means you can't get efficient use of "the gludes" your gluteus maximums has it's best power / efficiency from 45 degrees to straight. Which is why I like a road frame riding a "race position, flat back" with my pelvis straight up and bending over with the spine has an advantage besides speed and efficiency, you keep your back flexible which absorbs road shock that goes straight up a straight spine and causes pain which is wearing.


The trailer I use is the Nashbar single wheel it tracks supper and you don't know it's back there except for accelerating.


The panniers I use are REI.
This post was modified from its original form on 05 Jul, 7:57