"To be as good a person as I can learn to be."

South Holland, IL, USA
female, age 62
married
Speaks: English
Joined Aug 4, 2006





My Little Corner of the World
Create your free world
visitor maps
CLICK EACH DAY AT THE ANIMAL RESCUE SITE TO PROVIDE BOWLS OF FOOD TO ANIMAL SHELTERS. THEY HAVE TERRIFFIC PRODUCTS FOR SALE THAT YOU DON'T SEE ANYWHERE ELSE AND GOOD PRICES. I'VE BOUGHT FROM THEM IN THE PAST AND BEEN VERY HAPPY. PROVIDING FOOD EVERY DAY IS FREE WITH ONE CLICK A DAY.
GET CLICKING!
http://www.theanimalrescuesitecom/
FIRST OF ALL, HAVE YOU CLICKED TO MAKE A FREE DONATION TODAY AT THE FOLLOWING SITE? IT'S FREE, BUT BUYING SOMETHING ONCE IN A WHILE HELPS, TOO.
http://www.care2.com/click2donate/

Rain Forest
Seals
Oceans
Big Cats
Primates
Children
Pets
Stop Violence
End Breast Cancer
Daily Action
LIKE TO SEARCH? MAKE MONEY FOR YOUR CHARITY BY SEARCHING THROUGH WWW.GOODSEARCH.COM

50% of search income goes to charity you choose.

Web | Images | Video
Please use this site honestly. Fraudulent searches will result in a charity being de-listed.
I like to garden and watch it grow from its renewal in the spring through to harvest time, and don't care a lot for winter and the cold. I'm an artist at heart. My first drawing was of a dog on a cereal box at 18 months of age, and yes, it looked like a dog and he had a red collar with silver metal rivets. I had a good memory when I was young. I have many flowers and ten pear trees, Bartlett and winter pear, and one large apple tree. There are many evergreen trees and hundreds of Rose of Sharon that are blooming as I write this in purples, pink and white. I love animals and my pets have always been my best friends. I care about the environment and worry about this planet, chemical poisons, and global warming. I do the best I can with my own little world, and use all natural sprays I mix from my garden herbs. Lemon balm and catnip have kept the mosquitoes away beautifully this year. I worry about donations and where the money ends up. How many good and honest people are there in the world? Not enough, but adverse life circumstances are partly to blame. I don't want my donated money to go to expensive cars, first class travel and vacations and parties, etc., for a charity, and check them out at places like www.charitynavigator.com I like signing petitions and giving my opinion on an issue, but sometimes get too angry. I wish there was more I could do. Our government is influenced by big business, when their loyalty should be what is best for the people and the environment. I read and try to be informed, and pray for change, and realize that change starts with oneself. We are all connected and impacting one another through our thoughts and emotions, even if we live oceans apart and will never meet. I have hope for this planet. Thought is powerful and can raise the conscience and behavior of a society.
Keep the Arctic National Wildlife Refuge free of oil rigs
"We the undersigned Americans do not want the Arctic National Wildlife Refuge sacrificed for oil industry profits."
Here's another petition to improve living conditions at a zoo in Puerto Rico
:
http://www.thepetitionsite.com/takeaction/238521535 Just copy and paste into your browser.

A Poison Safe Home
Foods to Avoid Feeding Your Pet
- Alcoholic beverages
- Avocado
- Chocolate (all forms)
- Coffee (all forms)
- Fatty foods
- Macadamia nuts
- Moldy or spoiled foods
- Onions, onion powder
- Raisins and grapes
- Salt
- Yeast dough
- Garlic
- Products sweetened with xylitol
Warm Weather Hazards
- Animal toxins—toads, insects, spiders, snakes and scorpions
- Blue-green algae in ponds
- Citronella candles
- Cocoa mulch
- Compost piles Fertilizers
- Flea products
- Outdoor plants and plant bulbs
- Swimming-pool treatment supplies
- Fly baits containing methomyl
- Slug and snail baits containing metaldehyde
Medication
Common examples of human medications that can be potentially lethal to pets, even in small doses, include:
- Pain killers
- Cold medicines
- Anti-cancer drugs
- Antidepressants
- Vitamins
- Diet Pills
Cold Weather Hazards
- Antifreeze
- Liquid potpourri
- Ice melting products
- Rat and mouse bait
Common Household Hazards
- Fabric softener sheets
- Mothballs
- Post-1982 pennies (due to high concentration of zinc)
Holiday Hazards
- Christmas tree water (may contain fertilizers and bacteria, which, if ingested, can upset the stomach.
- Electrical cords
- Ribbons or tinsel (can become lodged in the intestines and cause intestinal obstruction—most often occurs with kittens!)
- Batteries
- Glass ornaments
Non-toxic Substances for Dogs and Cats
The following substances are considered to be non-toxic, although they may cause mild gastrointestinal upset in some animals:
- Water-based paints
- Toilet bowl water
- Silica gel
- Poinsettia
- Cat litter
- Glue traps
- Glow jewelry

Need help logging in?
When you register on the ASPCA website, you can get our newsletter, lobby for humane laws, and shop for ASPCA gear.
REGISTER NOW!
- Get a Free Magnet- Order a Free Sticker- Send ASPCA eCards- Download Wallpaper- Free ASPCA Toolbar
SUPPORT WWF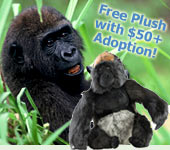 © WWF-Canon/Michael Gunther
Adopt a Lowland Gorilla
Have your gift matched
dollar-for-dollar!
Promote Animal Place's Film!

The Emotional World of Farm Animals is a wonderful documentary delving into the inner lives of farmed animals. It has been aired on over 100 PBS stations across the country, and we want to continue the trend.
This is where YOU come in!
We need animal lovers to write or call their PBS stations and ask them to air The Emotional World of Farm Animals.
Click on the link to find out contact information for your local PBS station. Also, let us know if they air the film! http://www.pbs.org/stationfinder/index.html
To laugh often and love much... to appreciate beauty,to find the best in others, to give one's self...this is to have succeeded. -Ralph Waldo Emerson To Act:
Express your gratitude for something good that has come your way.To Pray:
Dear Lord, thank You for giving us a fresh start each day to begin anew.

HOW CAN YOU BUY AND GIVE AT THE SAME TIME? FOR YEARS I'VE BOUGHT THINGS ONLINE THROUGH WWW.IGIVE.COM I CHOOSE MY CHARITY. IT DOESN'T COST ME ANYTHING, BUT A PERCENTAGE OF EACH PURCHASE GOES TO MY CHARITY. THEY FEATURE SPECIAL OFFERS AND DISCOUNTS THROUGH THEIR SITE. YOU JUST START SHOPPING FROM THEIR SITE, OR DOWNLOAD THE WINDOW THAT WILL POP UP EVERY TIME YOU LAND ON A SITE THAT DONATES TO IGIVE.COM IT'S EASY TO JOIN. I PUT A LINK BELOW THAT YOU MAY HAVE TO COPY AND PASTE INTO YOUR BROWSER. MY LINK HAS MY ID IN IT SO I GET A REFERRAL CREDIT, BUT IF YOU JUST WANT TO GO TO WWW.IGIVE.COM AND JOIN, THAT'S OK. $5 WILL GO AUTOMATICALLY TO ANY CHARITY YOU CHOOSE IF YOU BUY SOMETHING IN THEN NEXT 45 DAYS. AND RIGHT NOW THEY HAVE A SURFATHON GOING ON THROUGH JULY, 2008 AND EVERY MONTH CHARITIES WILL BE CHOSEN BASED ON NUMBER OF VISITS AND BE GIVEN $1,000. SEE LINK: http://www.igive.com/html/surfathonflyer.cfm

BELOW IS THEIR MESSAGE THAT YOU WOULD GET IF I SENT YOU AN E-MAIL:

I'm supporting South Suburban Humane Society
just by shopping online for brand-name stuff
at over 677 well-known online stores.
And I'm getting free deals and coupons just by
being an iGive.com member. If you join iGive.com
and make a purchase within 45 days from one of
677 or so participating stores, iGive.com
will donate $5 FREE to your favorite worthy cause!
That is $5.00 whole dollars to your favorite charity. Once you join, you can pick your favorite charity. Just click on Change My Cause. It doesn't cost me extra, I often get special discounts, and a percentage always goes to my favorite charity which I can change at any time but haven't so far. It just makes me feel good knowing when I shop online I am helping my favorite animal shelter, and you guessed it, I use a credit card that donates to another charity.

HOW IT WORKS
1. Join to Support South Suburban Humane Society
It's FREE, private, & easy.
http://www.iGive.com/html/refer.cfm?memberid=221077&causeid=9235

2. Shop the Mall at iGive.com
You'll see familiar stores like Lands' End,
Office Depot, JCPenney, Neiman Marcus, Expedia,
Barnes & Noble, and eBay to mention just a few!

3. Watch the $$ roll in for South Suburban Humane Society! (OR ANY CHARITY OF YOUR CHOOSING!)
Up to 26% of EACH purchase gets donated!

Remember, shop within 45 days of joining,
and get an extra $5 donation, FREE.
(This is a limited time offer!)

----------------------------------------------------
Use this link to JOIN FOR FREE and begin supporting
South Suburban Humane Society:
http://www.iGive.com/html/refer.cfm?memberid=221077&causeid=9235
----------------------------------------------------

GREAT STORES AT iGIVE.COM
And just in case you're thinking, oh yeah, who
wants to buy something from Never-heard-of-it.com,
here are just a few of iGive.com's 677+ stores:

Office Depot, Lands' End, JCPenney, PETsMART,
Expedia.com, Gap, Barnes & Noble, Neiman Marcus,
Best Buy, Dell, Vitamin Shoppe, QVC, Shop NBC,
Drugstore.com, Orvis, Hallmark, Staples, and more!

JOIN NOW
Use this clever link below and join with South Suburban Humane Society already selected as the cause you'll support. (AFTER YOU JOIN, YOU CAN CHOOSE YOUR OWN CHARITY.
----------------------------------------------------
http://www.iGive.com/html/refer.cfm?memberid=221077&causeid=9235
----------------------------------------------------
HIGHLIGHT ABOVE LINK, COPY AND PASTE INTO YOUR BROWSER.
MORE INCENTIVES
-->1ST TIME BUYER DEALS worth hundreds of dollars
-->EXCELLENT PRICES and exclusive deals for members
-->FREE SHIPPING offers from great stores
-->VIRTUAL KARMA from supporting YOUR favorite cause
-->$5 FREE donation when you shop within 45 days!

I hope to see you at iGive.com soon!

Linda

P.S. iGive.com would like you to know that all the
causes at iGive.com have been listed by members for
their own and others' benefit. They don't endorse
the causes, and the causes don't endorse them.
But I DO! So, c'mon, highlight, copy and paste link into your browser.
*****************************
Joined
Aug 4, 2006
Activist Aspirations
Casual
Here for
Support a Cause
Group Host of
none yet
Groups
Healthy Living Network, ORANGUTANS: Men of the Forest, Supporters of Winging Cat Rescue
Hometown
IL
Homepage
Birthday
Dec 29, 1956
About Me
pretty, but overweight, honest, religious, intelligent, clever, creative, artistic, kind, sympathetic, also worry too much, have never been able to conquer clutter, distrustful of dentists and doctors and lawyers Give thanks to God everyday for the gift of life.
Introduce yourself to Linda
Lifestyle
Activist Aspirations
Casual
Political Leaning
Moderate
Wild Fact About Me
I've never been wild, but I love Hawaiian music and can do the hula.
My Philosophy
Live and Let Live and Try Not to Judge Others
What Gives Me Hope
God, my pets, the beauty of nature
If I were Mayor, I'd make the world a better place by
Provide everyone with dental care and medical care on a sliding scale of ability to pay. The health savings would be enormous because problems would be treated early instead of after they became a crisis. Dental care is important not only for self esteem, but infections here affect the health of the entire body.
What/who changed my life and why
This is a profound thought. Like it or not, we are all changed by good, kind, honest people, but also changed by cruel, dishonest and destructive people that come into our lives. My belief in God and Jesus changed my life for the better. Mother Theresa I admire greatly. I'm not going to dwell on people who made it worse. We are the sum total of all the people who have come into our lives. Wisdom is learning who you don't want in your life to protect yourself from unnecessary pain and suffering. I've been very impressed with Dr. Emoto and his studies on the effect of prayer on water and all living things proven through photos of crystallized, frozen water. It even responds to the spoken word and captures images it is exposed to in a single drop of frozen water. It's so amazing. All life is connected, and we are mostly water. Water is like the internet of the earth's spirit. http://www.mercola.com/2002/may/8/prayer.ht
m
http://www.spiritofmaat.com/archive/nov1/cw
ater.htm
Favorites
Quotation
Jesus said, "He who follows me shall never walk in darkness, but shall have the light of everlasting life."
Introduce yourself to Linda
My Butterfly Rewards
Most recent activity (up to 500 gifts shown)
---
I've earned Butterfly Credits