Knoxville, TN, USA
female, age 53
married, 2 children
CAD Technician
Speaks: English
Joined Feb 14, 2006





HOPE EVERYONE IS DOING WELL. I VERY MUCH MISS EVERYONE, BUT I'M NOT ABLE TO PARTICIPATE IN THE GROUPS. I'M ABLE TO CHECK MY MAIL, NOTE STORIES AND SIGN PETITIONS, BUT ONLY ON A LIMITED BASIS. I DON'T HAVE A HOME COMPUTER ANY MORE AND DON'T SEE BEING ABLE TO BUY ONE ANYTIME SOON. MUCH LOVE TO ALL MY FRIENDS!

LOVE MELISSA

PLEASE CLICK TO DONATE EVERY DAY!
"The world is a dangerous place, not because of those who do evil, but because of those who look on and do nothing" Albert Einstein
http://dailycharity.googlepages.com/donate.html
The profile picture above is Ravi a white bengal tiger. She was loved by everyone and is sadly missed. Ravi and her sister Burma, an orange Bengal tiger, arrived at Knoxville Zoo in January 1988 as one-month-old cubs. Both were initially on loan from the Clyde Beattie/Cole Brothers Circus and were hand-reared by Knoxville Zoo in Tennessee. After several months and increasing popularity, a group of volunteers raised $50,000 to buy the pair for the Knoxville Zoo in October 1989.
She was diagnosed in June 2003 with eosinophilic granuloma, which are lesions that occur in cats. Zoo officials and veterinarians decided to euthanize the 316-pound Ravi after treatment options failed and she continued to grow increasingly uncomfortable and lethargic. Ravi was 18 years old.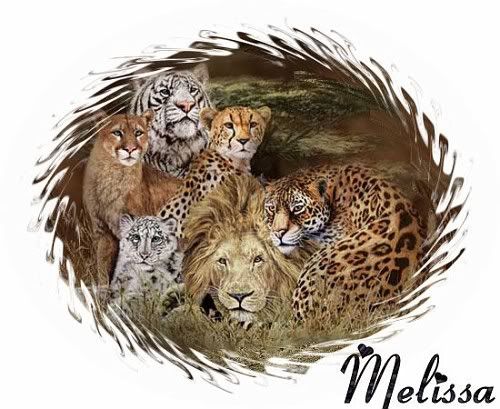 http://www.tigerhaven.org/index.html
Tiger Haven, Inc.

237 Harvey Road

Kingston, TN 37763

USA

Phone (865) 376-4100

Fax (865) 376-0284

tigerfriends@tigerhaven.org

IndiaB@tigerhaven.org


MESSAGE FROM THE WEBSITE:
Tiger Haven is a Sanctuary and Rescue facility for big cats, much like an animal shelter for dogs and house cats - except that we are a "no kill" facility. And, the cats that come here for sanctuary are given a permanent home. They are not sold, transferred or given away. We do not use them as 'breeders,' and they don't work for a living. The cats here enjoy the good life, and they deserve it.
It takes a lot of work to care for close to 200 big cats. But it is what we do.
The problem is - we can't do it all by ourselves. The cats need your help, too.

You see, it also takes a lot of money to care for the cats. The food bill alone runs about $30,000 each month.

No, the food is not donated to us.

That would be nice, but the cats like to eat on a regular basis.

There are also the not-so-glamorous things like the electricity bill (approximately $4,000 per month), diesel fuel, equipment and facility maintenance, licensing, new enclosures, and a host of other daily necessities. We need your help, and since Tiger Haven is a non-profit organization, we cannot survive without your help.
One way you can help is to become a member.

It doesn't cost much - only a few cents a day. But it means so much. It means the success stories and happy endings will continue. That is why we are here.

We know there are a lot of people who would like to help, but sometimes do not because they think they cannot do enough (or what they can do will not be significant).

The late John Denver once said, "I can't do it all, and you can't do it all. But if you do what you can do, and I do what I can do, it will make a difference."

Perhaps you cannot foot the food bill for a year, help with a major medical surgery, or build an enclosure for a rescued cat.

But you can make a difference. Will you do what you can do?


ONE FLAW IN WOMEN
Women have strengths that amaze men.
They bear hardships and they carry burdens,
but they hold happiness, love and joy.
They smile when they want to scream.
They sing when they want to cry.
They cry when they are happy
and laugh when they are nervous.
They fight for what they believe in.
They stand up to injustice.
They don't take "no" for an answer
when they believe there is a better solution.
They go without so their family can have.
They go to the doctor with a frightened friend.
They love unconditionally.
They cry when their children excel
and cheer when their friends get awards.
They are happy when they hear about
a birth or a wedding.
Their hearts break when a friend dies.
They grieve at the loss of a family member,
yet they are strong when they
think there is no strength left.
They know that a hug and a kiss
can heal a broken heart.
Women come in all shapes, sizes and colors.
They'll drive, fly, walk, run or e-mail you
to show how much they care about you.
The heart of a woman is what makes the world keep turning.

They bring joy, hope and love.
They have the compassion and ideas.
They give moral support to their
family and friends.
Women have vital things to say
and everything to give.

HOWEVER, IF THERE IS ONE FLAW IN WOMEN,
IT IS THAT THEY FORGET THEIR WORTH.

Joined
Feb 14, 2006
Activist Aspirations
Casual
Here for
Support a Cause
Group Host of
none yet
Groups
Abolish Animal Abuse, Cat Addicts Anonymous, Cat Lovers, Dog Lovers, Equal Rights for Women, FRIENDS WHO TAG TOGETHER ......STAY TOGETHER, Friends From The Heart, GRAPHIX & SIGGIES FOR THE TAKING, HSUS-The Humane Society of the United States, Healthy Cooking, Help Animals, Sign Petitions, Owned by Cats, Race for the Big Cats, Supporters of Winging Cat Rescue more »
Hometown
Knoxville, TN
Homepage
Birthday
May 27, 1966
About Me
CAT PERSON. LIKE PEOPLE AS LONG AS THEY ARE NOT ANTAGONISTIC, BUT DO NOT TRUST EASILY. SOMETIMES COMPULSIVE. FIRM IN WHAT I BELIEVE, ALTHOUGH I LIKE TO THINK I'M OPEN MINDED AND REASONABLE.
Introduce yourself to Melissa
Lifestyle
Activist Aspirations
Casual
Political Leaning
Liberal
Wild Fact About Me
My Philosophy
POLITENESS GOES A LONG WAY, BUT I CAN TRAVEL THE OTHER ROAD IF NEEDED.
What Gives Me Hope
WHEN A STRANGER EXTENDS A SMALL ACT OF KINDNESS.
If I were Mayor, I'd make the world a better place by
What/who changed my life and why
Favorites
Quotation
Introduce yourself to Melissa
My Butterfly Rewards
Most recent activity (up to 500 gifts shown)
---
I've earned Butterfly Credits