"~ "You've got to get up every morning with a smile on your face and show the world all the love in your heart." ~ Carol King"

Florence, OR, USA
female, age 71
married, 2 children
Speaks: English and enough Spainish to get by!
Joined Jul 24, 2006





I am here because...
I believe in making the world a better place.
I believe in treating others with trust and respect.
I believe everyone has something to contribute.

THIS BILLBOARD
IS A
WORK IN PROGRESS
In the meantime I would like to leave one candle burning at all times for all the victims of injustice, abuse and neglect of our prison/justice and mental health systems.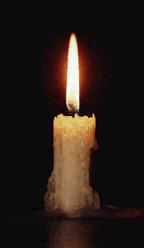 Please visit...


Let Michigan's governor know we want Justice and Accountability for Timothy Souder's death!
http://www.timothyjoesouders.bravehost.com




Petitions...Please sign!

Justice and Parity for mentally and/or physically ill prison inmates...
http:www.thepetitionsite.com/takeaction/577496396


Kenneth Bartly needs treatment and a chance for rehabilitation, not imprisonment...
http://www.thepetitionsite.com/takeaction/433285928

Take care of your
Mother Earth







Click to Donate Everyday!

http://www.care2.com/click2donate/


Hometown
Florence, OR
Homepage
Birthday
May 06, 1947
Languages
English and enough Spainish to get by!
About Me
Currently, I am at a real turning point in my life. It seems all that I have been or felt in the past no longer exists...I appear to be being nudged into a new beginning, a rebirth. It will be a time to re-aquaint myself with all aspects of life, re-align my world a bit...lighten my load a little to make room for the new.

I am awesomely anxious to see what the next half of my century brings, as I move on one day at a time with great interest and curiosity.
Introduce yourself to Julia
Lifestyle
Pets
cat
Activist Aspirations
Enthusiastic
Political Leaning
Depends
Religions
Wiccan/Pagan/Druid
Eating Habits
Keep it Healthy
Wild Fact About Me
I sang with Les Brown and His Band of Renown
My Philosophy
Live in the Light
What Gives Me Hope
Being able to start a new day!
If I were Mayor, I'd make the world a better place by
Geeze,where to begin? Okay...let's start big...If I were president...I would cut all foreign aid for a start. Cut 75% of all military spending.(I didn't say vets)and raise those taxes on the rich! Now from the $ I made and saved from these three adjustments we can now start to get this country back on track and put the dollars where they are supposed to go!
What/who changed my life and why
At this point in my life, I have a whole list, as life is so ever-changing! However, I have to say that two events, the passing of my son and many years later, my mother, were both profoundly life-altering.
What Bugs Me

Passions

Inspirations

What Scares Me

Favorites
Role Models

Quotation
"What goes around comes around.

Work like you don't need the money.

Love like you've never been hurt.

Dance like nobody's watching.

Sing like nobody's listening.

Live like it's Heaven on Earth".
Author Unknown
Interests
My Family, My Spirit, My Environment, Gardening, Herbal/Organic Alternatives, Humor, Internet, Marketing, Movies, Music, Nutrition, Politics, Recycling
Books

Music
I especially love anything that my son s, rock, blues, crossover., I love the hard drivin' sounds of Guns a, Motly Crue, Metallica, I love the harmonies of Loggins and Mess, The Oakridge Boys
Movies
Hummm...I enjoy such a diverse lot...let, 1) Point Break, 2) Lonesome Dove, 3) Con Air, 4) Fast Times at Ridgemont High, 5) Girl Interrupted, 6) Love Me Tender, 7) Amadeus, 8) Anything Cheech & Chong, 9) Moulon Rouge, 10) A
TV Shows
No TV Zone
Favorite Foods
I love it all! Japaneese Cuisine is top
Favorite Places
My garden
Can't Live Without
Music!
Introduce yourself to Julia
My Butterfly Rewards
Most recent activity (up to 500 gifts shown)
---
I've earned Butterfly Credits