I like flowers, I also like children, but I do not chop their heads off and keep them in bowls around the house.
-George Bernard Shaw
No Hierarchial Life Structure Please
"There's a schizoid quality to our relationship with animals, in which sentiment and brutality exist side by side. Half the dogs in America will receive Christmas presents this year, yet few of us pause to consider the miserable life of the pig - an animal easily as intelligent as a dog -that becomes the Christmas ham." -The New York Times
~Magickal Graphics~
Shocked to the root
like the lilac bush
in the vacant lot
by the hurricane-
whose black branch split
by wind or rain
has broken out
unseasonably
into these scant ash-
colored blossoms
lifted high
to say
to passerby
WHAT WILL UNLEASH
ITSELF IN YOU
WHEN YOUR STORM COMES?
-Kathia Pollitt
~Magickal Graphics~
"As long as people will shed the blood of innocent creatures there can be no peace, no liberty, no harmony between people. Slaughter and Justice cannot dwell together."
-Isaac Bashevis Singer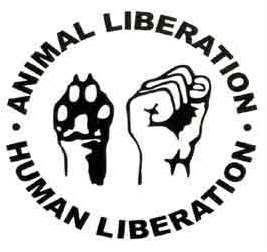 "To look into the eyes of a wolf is to see your own soul - hope you like what you see."
- Aldo Leopold
~Magickal Graphics~

"Inescapably, the realization was being borne in upon my preconditioned mind that the centuries-old and univerally accepted human concept of wolf character was a palpable lie. On three separate occasions in less than a week I had been completely at the mercy of these "savage killers"; but far from attempting to tear me limb from limb, they had displayed a restraint verging on contempt, even when I invaded their home and appeared to be posing a direct threat to the young pups." -Farley Mowat, Never Cry Wolf






"What? No. We can't stop here. This is bat country."
-Johnny Dep
~Magickal Graphics~
~Magickal Graphics~
If men had wings and bore black feathers, few of them would be clever enough to be crows.
-Henry Ward Beecher
~Magickal Graphics~
~Magickal Graphics
Coyote
The Trickster
Coyotes can detect a hunter about 1 mile away, and can reach a running speed up to 40 miles per hour.
In order to not get detected by predators, sometimes Coyotes walk on their toes to make as little noise as possible.
The Phoenix hope, can wing her way through the desert skies, and still defying fortune's spite, revive from ashes and thrive.
- Miquel de Cervantes Saavedra
It is just like man's vanity and impertinence to call an animal dumb because it is dumb to his dull perceptions. ~Mark Twain


I feel the same way about solitude as some people feel about the blessing of the church. It's the light of grace for me. I never close the door behind me without the awareness that I am carrying out an act of mercy toward myself.
~ Smila's Sense of Snow