"To see God in everyone; to trust that I am sent nothing but Angels; to learn to live more and more in the light."

Hillsboro, OR, USA
female, age 117
single
Speaks: English
Joined Feb 5, 2006


Causes: poverty awareness, environment, new spirituality, women's issues, Civil Rights, Corporate Responsibility, Food Safety, Affordable Housing, homelessness, Human Rights, Hunger, Indigenous Peoples Rights, Literacy, Media Ethics, Native A

Activities: Arts/Crafts, Beadwork, Book Club, Dance, Gardening, Journal Keeping, Meditation, Needlepoint / Sewing / Weaving, Photography, Reading, Reiki, Volunteering, Writing, Cafes, Camping, Candle Making




For my friends & visitors:

http://www.youarelovemovie.com/

http://www.mayyoubeblessedmovie.com/

http://www.whispersonthewind.org/

http://www.worldprayers.org/index.html




Hyacinths for the Soul
Visit this group

YOU CAN ALSO FIND ME ON TWITTER.COM AS @HYACINTHS4. If you're on twitter as well, send me a tweet and we can follow each other!

I'm on FaceBook as Cynthia Hanna - send me a friend request!


Prior to inviting me to join a group, please check to see if it is really something that would interest me.

If you are someone who promotes or espouses violence or hatred of any kind against ANY of God's creation - please do not contact me for any reason. I will not link to you, promote your causes, etc. If you have been linked to me, and now are not, this is the most likely cause...

If you wish to link to me, please contact me prior to sending a friend request so that we can have a "conversation" first - otherwise your request will not be answered. I take my friendships seriously, and like to know a bit about you ...as I'm sure you would like to know a bit about me.


Thanks for your understanding!!
In love & light,
Cynthia



A New Era of Humanity has begun!
A highly dedicated group of Internet citizens have banded together using the latest technology to make it as simple as taking just few clicks so that you can in fact make a huge difference in the world. Come see how it works:

http://www.tenmillionclicksforpeace.org?sid=41224c414VNo5443cQ8075122
---
"But you don't look sick" - the invisible pain of Fibromyalgia
http://fmaware.org/index.html
Survivor's Art Foundation - Healing through Art; Art through Healing

http://www.survivorsartfoundation.org/index.html
THE SECRET CLUB PROJECT:
understanding pregnancy loss through the arts
The Secret Club is an international project featuring more than 40 artists exploring miscarriage and other pregnancy- related losses, including infertility, ectopic pregnancy, molar pregnancy, and stillbirth. http://www.secretclubproject.org/home.html




Gift From Within : An International Nonprofit Organization for Survivors of Trauma and Victimization
- Anything that has real and lasting value is always a gift from within. Franz Kafka


---
See God in everyone
---



The words to a song taught to me by a Wiccan friend. I don't know the origins:

May we walk in beauty in a sacred way
May we walk in beauty each and every day.
May the beauty of the fire
lift your spirit higher;
May the beauty of the earth
fill your heart with mirth;
May the beauty of the rain
wash away your pain;
May the beauty of the sky
teach your mind to fly.
May we walk in beauty in a sacred way
May we walk in beauty each and every day.
---
This, I was told, was found written on the wall of a concentration camp at the end of WWII:



I believe in the sun,
even when it does not shine.
I believe in love,
even when it is not
shown.
I believe in God
even when He does
not speak.
---
And from Neale Donald Walsch's book "The New Revelations":

There are five things you can choose now if changing the world, and the self-destructive direction in which it is moving, is what you wish to achieve.

1. You can choose to acknowledge that some of your old beliefs about God and about Life are no longer working.
2. You can choose to acknowledge that there is something you do not understand about God and about Life, the understanding of which will change everything.
3. You can choose to be willing for a new understanding of God and Life to now be brought forth, an understanding that could produce a new way of life on our planet.
4. You can choose to be courageous enough to explore and examine this new understanding, and, if it aligns with your inner truth and knowing, to enlarge your belief system to include it.
5. You can choose to live your life as demonstrations of your highest and grandest beliefs, rather than as denials of them.
These are the Five Steps to Peace, and if you take them,
you can shift everything on our planet.

Microlending - changing the world one family at a time!!
www.kiva.org
Check out the True Food shopping guide - you'll be surprised how much of the food you eat contains genetically engineered organisms!
http://www.truefoodnow.org/shoppersguide/guide_printable.html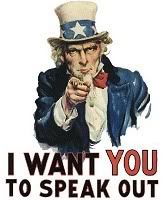 "Silence, they say, is the voice of complicity.

But silence is impossible.
Silence screams.
Silence is a

Message,
Just as doing nothing is an act.
Let who you are ring out
&
Resonate
In every word & every deed.
Yes, become who you

Are.
There's no sidestepping your own being
Or your own

Responsibility.
What you do is who you are.
You are your own

Comeuppance.
You become your own message.
You are the

Message."




In the Spirit of Crazy Horse




---Leonard
Peltier


Joined
Feb 5, 2006
Activist Aspirations
Enthusiastic
Here for
Meeting Friends, Dating, Support a Cause, Other
Group Host of
none yet
Groups
Addressing Global Warming, Café du Monde!, Global Alliance to Ban GMOs, Healthy Cooking, Healthy Living Network, Homeless Civil Rights and Civil Liberties, Living A Simple and Frugal Life, Thanksgiving...A Season or an Attitude?, What we can do to stop Global Warming
Hometown
ANYWHERE, MG
Homepage
Birthday
March 18, 1901
Languages
English
About Me
Introduce yourself to Cynthia
Lifestyle
Pets
cats
Activist Aspirations
Enthusiastic
Political Leaning
Liberal
Religions
Waiting for humanity to, outgrow organized religion, learn to see and live, the oneness of all creation
Eating Habits
Wishing for organics - sigh!, What? Did I forget to eat again?!, Coffee - Now!
Wild Fact About Me
My Philosophy
Every healing needs a place to start. Be the pebble in the pond - share your light - a smile, a word of hope or encouragement, acknowledgement of shared experience - and let the ripples go where they will, trusting in their path.
What Gives Me Hope
If I were Mayor, I'd make the world a better place by
What/who changed my life and why
lisa, for giving my soul wings! Cassandra, for helping me find my voice. My children, for blessing me with their presence and their love!
What Bugs Me
Drug and alcohol abuse, compulsive liars, cruelty, people who WON'T use their minds!, intolerance, hypocrisy, ignorance
Passions
writing, spirituality, other cultures, MY CHILDREN!!!, making a difference, books
Inspirations
Lisa, the mother of my heart, god, to fulfill my purpose on earth, People waking and seeing their own light, some of my teachers, the beauty of nature
What Scares Me
ignorance, War - Cruelty - Greed - Indifference, religious fanatics
Favorites
Role Models

Quotation
I collect quotes, so I have many favorites
Interests
Aromatherapy, Biodiversity, Body/Personal Care, Community Development, Crafts, Crystals, Disabilities / Challenged, Ecology, Environment, Ethnic Studies, Fair/Alternative Trade, Feng Shui, Gardening/Farming, Hemp Products, Herbs, Meditation, Metaphysical
Books
Diet for a Poisoned Planet, Masters of the Far East, Illusions - Adventures/Reluctant Messiah, Original Blessings, Conversations with God - all, Healing/New Age, Science Fiction
Music
classical, ethnic traditional music (worldwide), world music, soft rock, new age, folk, Easy listening, Classic Rock
Movies
It's a Wonderful Life, An Inconvenient Truth, Memoirs of a Geisha, what dreams may come, Lord of the Rings, comedy, What the Bleep Do We Know
TV Shows
I rarely watch TV
Favorite Foods
Mexican, Seafood, Italian, Afghani, Indian
Favorite Places
Wherever my kids are, Oregon Coast, Berkeley, Napa Valley, Northern Coast - California, Seattle, Washington, Ankara & Istanbul, Turkey, Athens, Greece
Can't Live Without
coffee!, books, color and light, art in all its forms, Being able to touch the earth, being able to hug my kids, my belief in Life/God, laughter, more laughter!
Introduce yourself to Cynthia
My Butterfly Rewards
Most recent activity (up to 500 gifts shown)
---
I've earned Butterfly Credits