Stafford, VA, USA
female, age 33
committed relationship
Speaks: English
Joined Apr 9, 2009


Causes: Protecting Animals Big and Small, Animal Welfare, GLBT Rights/Equality, Anti-Vivisection, Anti-Fur, Same Sex Marriage, pro-choice, Protect America's Forests, Rain Forests, Marine Wildlife, global warming, environment, Endangered Species, Breast Cancer Awareness




R.I.P. Samus...
2/4/09-4/10/09
I love you.. I miss you... and I'm sorry I couldn't save you...


If Anyone has a Mysapce page, make sure you add my Defenders of the Wild page, the page I created to help animals big and small! You can add me here http://www.myspace.com/defendthewild .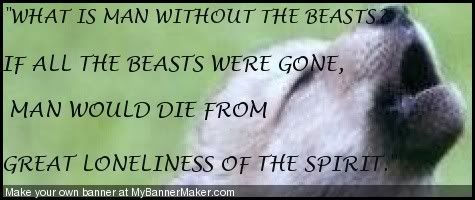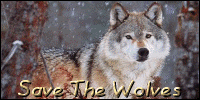 Joined
Apr 9, 2009
Activist Aspirations
Enthusiastic
Here for
Meeting Friends, Support a Cause
Group Host of
none yet
Groups
All Animals Great And Small, Animal Legal Defense Fund, Archaeology: Study of the Past, Backyard Wildlife Sanctuaries, Care2 Get The Word Out?, Cat Lovers, Defenders of Wildlife, Defenders of Wildlife Action Fund - Electing Pro-Wildlife Leaders, Dog Lovers, Elephant Lovers, Exploring the Wonders of the World, Haunted Places and Mysteries of the Unknown, Jane Goodall Institute: Race for the Primates, NWF - National Wildlife Federation more »
Hometown
Stafford VA
Homepage
Birthday
Oct 11, 1985
Languages
English
About Me
My current mission is to help as much as possible to end animal cruelty and make it a safe place for all creatures.
Introduce yourself to Heather
Lifestyle
Pets
4 Fish, American Black Shorthair named Gwenevere, A Maine Coon name Pandora
Activist Aspirations
Enthusiastic
Political Leaning
Depends
Religions
Pagan-Wiccan, Pagan / Earth based spirituality, Pagan witch, Pagan/earth religion/nature spirituality
Eating Habits
Tofu and soy, Wine and Cheese, Wine Lover, Wine*Bread*Cheese*Apples, Vegetarian and organic, Vegetarian with dairy products, Vegetarian but sometimes fish
Wild Fact About Me
My Philosophy
I expect to pass through this world but once. Any good therefore that I can do,or any kindness I can show to any creature, let me do it now.Let me not defer it, for I shall not pass this way again.
- Stephen Grellet
What Gives Me Hope
Seeing a change, no matter how big or small, in the right direction. Changing a persons mind and/or point of view.
If I were Mayor, I'd make the world a better place by
I would make HARSH punishments for any act of animal cruelty, no matter how small. To teach a lesson, it would be "An Eye For An Eye" deal. There would also be reform to the meat industry and more promotion of vegetarian/vegan lifestyles.
What/who changed my life and why
The movie Beyond Border's changed my life. It let me know what was really out there and that their are really people who care.
What Bugs Me
Those Who DO the Animal Testing, Those Who Promote Animal Testing, Furriers, Rapists, people who WON'T use their minds!, Sarah Palin-Wolf Killer, injustice, ignorance, Evil people, Drunk Drivers, cruelty, arrogance, Any one that would hurt an animal, abusive people
Passions
traveling, reading, peace, mythology, nature, making a difference, laughter, environment, Energy Healing And Love, earth, cats, broadening my horizons, books, animals
Inspirations
the sound of the ocean, The Great Spirit, the beauty of nature, rain, peacemakers, nature, happiness, goddesses, friends, blue skies, Birds chirping, a gentle breeze, animals
What Scares Me
Losing the ones I love, Is how cruel the people of the world are, global warming, death, cruel people, being alone, abusers
Favorites
Role Models

Quotation
Interests
Video Games, Reading, Wine Festivals, Wine Tastings, Paranormal/Supernatural, Travel/Adventure, wildlife, pets, national parks, Mythology / Folklore, gardening
Books
Patricia Briggs- Mercy Thompson Series, The Dark Harvest, The Vampire Shrink, The Host- Stephanie Meyer, Raven Hart- Savannah Vampires Series, Meredith Gentry-Fae Series, Anita Blake Vampire Hunter Series, Laurell K Hamilton, Vampire Book, Mysteries
Music
Sarah Brightman, Kate Havnevik, Juniper Lane, Erin McCarley, 80's music, oldies, new age, enya, celtic
Movies
All Underworld Movies, Mr. And Mrs. Smith, The Labyrinth, The Princess Bride, Pretty Woman, dirty dancing, action
TV Shows
Moon Light, Ghost Whisperer, Castle, CSI-original, Ghost Adventures, T.A.P.S.on sci-fi, Ghost Hunters International, Ghost Hunters, The 11th Hour, Sex and the City, Animal Planet
Favorite Foods
Hummus, veggies, pasta, pizza, cheese
Favorite Places
Potomoc Pointe Winery, My Home with my pets and boyfriend, Shenandoah National Park, The woods, the mountains, Wine Festivals
Can't Live Without
my boyfriends, sleep, peace, nature, my animals, laughter, hope, family, books, animals
Introduce yourself to Heather
My Butterfly Rewards
Most recent activity (up to 500 gifts shown)
---
I've earned Butterfly Credits