"Horses"

Willard, NC, USA
female, age 40
committed relationship, 4 children
Speaks: english
Joined Dec 25, 2006


Causes: Horse welfare, equine education, Education for ALL, Ocean Conservancy, Native American Cultures, Native American Rights, puppy mill awareness, wolf preservation, Wolf Conservation, Human Rights, Violence against Women, Violence against Children, Endangered Species, Ca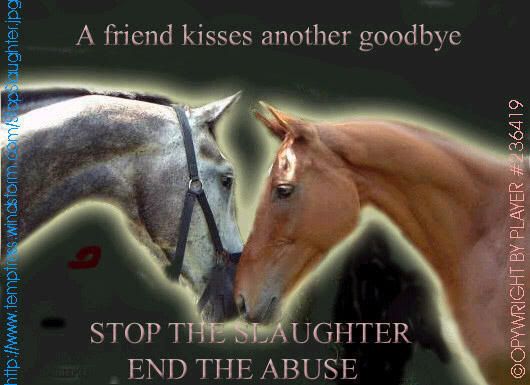 ************************************************************************************ I AM TRYING TO RAISE THE FUNDS TO START AN EQUINE ANS WELL AS OTHER ANIMALS SANCTUARY RIGHT HERE IN COASTAL NC.
The Rainbow Bridge There is an old Indian legend that says; When the time comes for a man to die he must cross the rainbow bridge to heaven. As he crosses the bridge, he will meet every animal he has ever encountered; and they, each, will judge him according to how they were treated by him, thus determining whether he is worthy to cross the rainbow to heaven.
Joined
Dec 25, 2006
Activist Aspirations
Rabid
Here for
Meeting Friends, Professional Connections, Support a Cause
Group Host of
none yet
Groups
Aquarium Enthusiasts, Cat Lovers, Defenders of Wildlife, Dog Lovers, Donkey Lovers, Dustbunnies & Clutterbugs, Elephant Lovers, Help Animals, Sign Petitions, Horse Crazy, Justice for Horses, NWF - National Wildlife Federation, National Audubon Society, Native American Pals, PETA - People for the Ethical Treatment of Animals more »
Hometown
Coastal NC.
Homepage
Birthday
July 03, 1978
Languages
english
About Me
Introduce yourself to Joanna
Lifestyle
Pets
1 boyfriend, fish and more fish, 2 Hermit Crabs, chickens, 12 ponies, 2 Horses, 1 Dog, 2 Cats
Activist Aspirations
Rabid
Political Leaning
Religions
christian
Eating Habits
Caffeine!!
Wild Fact About Me
I AM TRYING TO RAISE FUNDS TO START AN EQUINE AS WELL AS OTHER ANIMALS SANCTUARY HERE IN COASTAL NC.
















Please help. Every Little Bit Helps...No Matter How Small.
My Philosophy
What Gives Me Hope
My Horses
If I were Mayor, I'd make the world a better place by
What/who changed my life and why
Black Beauty
What Bugs Me
Those that abuse/neglect animals, Any one that would hurt a child, Horse Slaughter and Sellouts
Passions
music, laughter, cats, my friends, my family, making a difference, other cultures, broadening my horizons, horses, Raising My Children, love, nature, animals
Inspirations
horses, My Mom and Dad, my kids, the beauty of nature, animals, love, music, good people
What Scares Me
Tornadoes!!, Losing the ones I love
Favorites
Role Models
Jesus Christ, My boyfriend, My Kids!!, My Mom and Dad
Quotation
"The wind of heaven is that which blows between a horses ears."
**********************
"If we see cruelty or wrong that we have the power to stop, and do nothing, we make ourselves sharers in the guilt."
(Black Beauty by Anna Sewell)
Interests
wildlife, music, my horses, my kids, horseback riding, pets
Books
Horse Education Books, Anything to do with animals and nature
Music
beatles, country, Classic Rock
Movies
To Kill a Mockingbird, Napolean Dynamite, horse/animal stories, DragonHeart, Dream Team, Gone with the Wind, Sixteen Candles, The Gods Must Be Crazy, The Princess Bride, The Black Stallion, Spirit: Stallion of the Cimarron, Ghostbusters 1 and 2, The Breakfest Club, Pa
TV Shows
punky brewster, The Crocodile Hunter, Animal Cops Houston, Spongebob Squarepants, RFD-TV, Animal Planet
Favorite Foods
chocolate, chinese, seafood
Favorite Places
in the barn, woods, beach, home, North Carolina coast...my home., Myrtle Beach SC
Can't Live Without
Love in my life, My boyfriend, My Pets!, Coca-cola Classic, my horses, my kids, love, oxygen and water, nicotine, caffiene
Introduce yourself to Joanna
My Butterfly Rewards
Most recent activity (up to 500 gifts shown)
---
I've earned Butterfly Credits