"""Nobody Made A Greater Mistake Than He Who Did Nothing Because He Could Only Do a Little." -Edmund Burke""

Manahawkin, NJ, USA
female
married
Speaks: whale, Cat-speak, English only
Joined Jul 10, 2008





URGENT: Please Visit These Links And Forward Any Help For These Precious Ones, Is Needed their time is running out! Updated Daily!



Spalding Georgia Is Gassing Facility - PLEASE if you live in and around Georgia do what you can for these precious babies. http://www.care2.com/c2c/share/detail/932151




HUGE LIST OF Low Cost or Free Spay - Neuter
Programs in the United States For Pets & Feral






Tell Petland to Stop Selling Puppies -- Watch This Video, Then Take Action



Puppy Mills MUST BE BANNED!
Please Watch..Prisoners Of Greed



Day after day..
each one the same,another year older a little more
lame left out in the weather with little protection my
body is sore and hot with infection in the freezing cold
or the searing heat with nothing but wire beneath
swollen feet my food bowl is empty my water dish dry
What did I do?? please tell me, why? the litters come
and the litters go where do they take them? I don't
know... is this a bad joke? or a horrible game?
I have no home not even a name no one to love me no
one to care no one to bathe me and brush my hair my teeth are
rotting my eyes are encrusted where are the people to
whom I'm entrusted? I cry every night...so afraid, don't
you see? could this be the life God intended for me?
someone, speak for me I am losing my will take me out of this
hell called a Puppymill.....
Peggy Wilson 5-24-00

↑ Grab this Headline Animator
Sea Shepherd Support Group
Visit this group
Visit SSS


Support SSCS by joining us on Myspace www.myspace.com/SeaShepherdSupport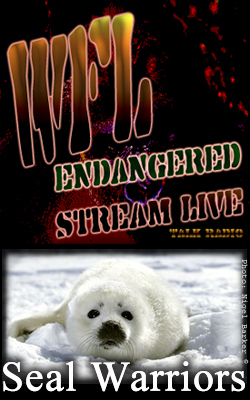 Stop Dog Burning Tests



USA List Of Animal Research Labs
List of lab animals breeders



Until the last flesh is consumed and no more animals
are born to doom Our struggle is beside the weak.
Respect for life is what we seek Until the last is forced to
entertain and no more animals are driven insane. For all
those beaten to a cower we lend our strength
and our power. Until the last suffers in a cruel test and
scientific fraud is finally confessed. To those voiceless we give
them word until their agonizing cries are heard. Until the last
dead skin is worn and for our usage no animal is born. Relentless
battles we must fight until all others see compassion's light.
Until the last abuse has ceased and existence is granted to every
beast. We won't abandon or give in because this war
we intend to win!



Joined
Jul 10, 2008
Activist Aspirations
Enthusiastic
Here for
Meeting Friends, Job Search, Professional Connections, Support a Cause
Group Host of
Groups
"SAVE OUR WILD MUSTANGS & OUR HERITAGE & STOP SLAUGHTER", (APPPN) A Petition Posting & Peoples Network, (PTT) Peace Think Tank, A Dog-Gone Good Natural Pets Group, A Free Stuff Network (AFSN), A WOMANS BEAUTY & HEALTH CRUELTY FREE!, ANIMCORD: Would you like to save abandoned animals?, ANONYMOUS R US, ANTI-FUR SOCIETY, Abolish Animal Abuse, Activists 4 Abandoned Animals, Activists Against Factory Farming, Adoption Center, African Wildlife Foundation more »
Hometown
Ohio
Homepage
http://www.myspace.com/angel_of_suburbia
Birthday
Aug 09
About Me
I am a poet, a priestess, a lover,a Navy Wife, and a friend.
I am a teacher and a student.
I am a christian and a druid,
I am complicated and yet low maintanance.
A rebel who can follow the rules,because I change them.
I am shy yet do not shy away.
An anarchist who knows how to play the game.
A taroist and an exorcist.
I believe in faeries and paralell dimentions
and the possibility of life elsewhere.
I am an angel and a vamp.
I'm a warrior when needed, and a healer at all times.
I am emotional, yet my emotion speaks volumes of logic.
I am wise, yet ever learning.
I am loyal if a friend,
and a ruthless enemy if warranted.
I am faithful in friendship,
and even more so when in love.
I will lend a hand where needed,
and give unconditionally when called.
I am patriotic, but not blindfolded to truths.
I am your friend if asked,yes, even till the very end.

I am that one voice, in the cold wind, That whispers, And if you listen, You'll hear me call across the sky.
Introduce yourself to Susan
Lifestyle
Activist Aspirations
Enthusiastic
Political Leaning
Moderate
Wild Fact About Me
"I have the heart of a Raven,
And the Soul of a Cat,
Flying on the wings of Quicksilver"
My Philosophy
"This is what I believe: That I am I. That my soul is a dark forest. That my known self will never be more than a little clearing in the forest. That gods, strange gods, come forth from the forest into the clearing of my known self, and then go back. That I must have the courage to let them come and go. That I will never let mankind put anything over me, but that I will try always to recognize and submit to the gods in me and the gods in other men and women. There is my creed." -D.H. Lawrence
What Gives Me Hope
"Some day, after mastering the winds, the waves, the tides, and gravity, we shall harness the energies of love.... Then, for the second time in the history of the world, humanity will have discovered fire". --Pierre Teilhard de Chardin
If I were Mayor, I'd make the world a better place by
Appoint someone else ;.) But I would insist on better laws to protect animals and children.
What/who changed my life and why
Keith, Mom & Dad Halloran, Lise, Tina, Kenny, Richard,
Libby, Kimmie, Bill, Faith, Devin, Andy, Abby, Princess Diana, John Lennon, Billie Joe Armstrong, Paul Watson, and so many animal activists and advocates!
Don't really have specific heroes, everyone is a hero in some way at some point in life, to someone.
Favorites
Quotation
I get called quite a few things with pirate and eco-terrorist being the more polite labels. But you don't make change by being nice and polite. Change requires cages to be rattled, the boat to be rocked and even sunk sometimes and it requires a deep passionate commitment to righting wrongs and upholding justice especially when justice must take precedence over laws designed for vested interests." Sea Shepherd, Captain Paul Watson -in response to being chosen by the Guardian newspaper of Great Britain as one of the 50 people who can save the planet.
__________

"If you talk to the Animals, they will talk with you. And you will know each other. If you do not talk to them, you will not know them. And what you do not know you will fear,
What one fears … One destroys."
Chief Dan George
___________

"So live your life that the fear of death can never enter your heart. Trouble no one about their religion; respect others in their view, and demand that they respect yours. ......Show respect to all people and grovel to none."
Chief Tecumseh, Shawnee Nation
__________

"In the beginning of all things, wisdom and knowledge were with the animals; for Tirawa, the One Above, did not speak directly to man. He sent certain animals to tell men that he showed himself through the beasts, and that from them, and from the stars, and the sun, and the moon, man should learn. Tirawa spoke to man through his works."
Chief Letakots-Lesa, Pawnee Tribe
__________

"When the Earth is sick, the animals will begin to disappear, when that happens the Warriors of the Rainbow will come to save them."
Chief Seattle
__________

"What is life? It is the flash of a firefly in the night. It is the breath of the buffalo in the winter time. It is the little shadow which runs across the grass and loses itself in the sunset."
Crowfoot
__________

"There is one God looking down on us all. We are all the children of one God. The sun, the darkness, the winds are all listening to what we have to say." .....I cannot think we are useless or God would not have created us."
Geronimo, Apache Nation
__________

"Friendship isn't about whom you have known the longest; but about who came and never left your side."
-Author Unknown
__________

"Supporting my gay, bi, lesbian, cross-dressing,transgendered friends!"
__________

"I say to you today, my friends, so even though we face the difficulties of today and tomorrow, I still have a dream. It is a dream deeply rooted in the American dream.

I have a dream that one day this nation will rise up and live out the true meaning of its creed: "We hold these truths to be self-evident: that all men are created equal."
__________

And I am my brother's keeper,
And I will fight the fight;
And speak the word for the beast and bird
Till the world shall set things right."
~Ella Wheeler Wilcox~
__________

"May the stars carry your sadness away,
May the flowers fill your heart with beauty,
May hope forever wipe away your tears,
And, above all, may silence make you strong."
__________

"All these things are One

Animals speak and listen.
Plants speak and listen.
Stones speak and listen.
Trees speak and listen.
The Sun speaks and listens.
The Moon speaks and listens.
The Clouds speak and listen.
The Wind speaks and listens.
The Rain speaks and listens.
The Earth speaks and listens.
Fire speaks and listens.
The Insects speak and listen.
The Reptiles speak and listen.
The Lord and Lady speaks and listens.
The Masters speak and listen.
The Old Ones speak and listen.
The Spirits speak and listen.
And the Great Spirit speaks and listens.
Humans speak and

All of these are within us!
When will we wake up and listen?"

__________

"A real witch may extract sweetness from even the most bitter of herb"
__________

"I cried because I had no shoes, then I met a man who had no feet"
____________________________

"A certain amount of opposition is of great help to a man. Kites rise against, not with the wind.
-- John Neal
____________________

"Tiger tiger
burning bright
In the forests of the night,

What immortal hand or eye
Could frame thy fearful symmetry?......"
....Blake
__________

" They too, are created by the same loving hand of God which Created us
... It is our duty to Protect Them and to promote their well-being. "
- Mother Teresa -
__________
"When a man wantonly destroys one of the works of man we call him a
vandal. When he destroys one of the works of God we call him a
sportsman. ~Joseph Wood Krutch"
__________

"Life is as dear to an animal as it is to man. Just as one wants happiness and fears pain, just as one wants to live and not die, so do all creatures." The Dalai Lama
__________


The concept of 'animal rights' values the simple premise that ALL
living creatures have a "right" to be allowed to live their lives as
originally intended; without victimization--free from brutality. It is
a right
that EVERY being strives for.

~Brennan Browne~
__________
The soul is the same in all living creatures, although the body
of each is different. -Hippocrates
___________________

We ourselves feel that what we are doing is just a drop in the ocean. But the ocean would be less because of that missing drop.

-- Mother Teresa


I am not interested to know whether vivisection produces results that are profitable to the human race or doesn't.... The pain which it inflicts upon unconsenting animals is the basis of my enmity toward it, and it is to me sufficient justification of the enmity without looking further. ~Mark Twain
__________
Introduce yourself to Susan
My Butterfly Rewards
Most recent activity (up to 500 gifts shown)
---
I've earned Butterfly Credits