"I hardly read my C2 messages, you may contact me via Facebook: http://www.facebook.com/Nad
iaNYC"

New York, NY, USA
female
single
Speaks: English and Tagalog, some french and spanish
Joined Jan 27, 2004






"All that is necessary for the triumph
of evil is for good men to do nothing."
~Edmund Burke
PLEASE SIGN MY PETITIONS:
Save Romania's Zoo Animals From Slaughter!
Captive animals in Romania's 35 or more zoos are destined to be killed as the country's deplorable zoos do not meet EU standards. Please click "visit site" button below and sign my petition targeting the European Parliament.
Puerto Rico Pet Massacre-Demand Justice!
Raids were conducted in homes of housing projects in Puerto Rico. Animal control workers confiscated dozens of beloved dogs and cats from their families, some infront of crying children. These precious pets were then rounded up and thrown off a bridge at a neighboring town, hurling them 50 feet to their deaths. Demand justice! It's time for change on how animals are treated in Puerto Rico!
Vet School Worker Beat Puppies to Death
A 20-yr.old Univ.of Georgia student was charged with 7 counts of animal cruelty after she beat a litter of puppies to death, left them in a box behind a convenience store. Police said puppies were covered with bruises and open wounds, that "they suffered."
YES! WE REALLY DID IT!!
9/13/07 Maggie is Going to PAWS!!!
Maggie the elephant: California Dreamin'!!!!!!!!
It's official: The Alaska Zoo has announced its board has unanimously chosen the Performing Animal Welfare Society (PAWS) elephant sanctuary in San Andreas, California as the first choice for a new home for Maggie. The board also plans to attempt to move her before winter!
Click here and check out Maggie's soon to be home.
6/6/07 Zoo Board Agrees to Let Maggie Go!
!
Compare: Maggie, the lone elephant in Alaska zoo. vs. elephants @ TES
Just Say No to Circuses with Animal Acts!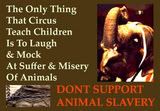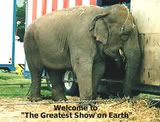 Learn more:
http://www.circuses.com
End Animal Cruelty & Animal Abuse in Ukraine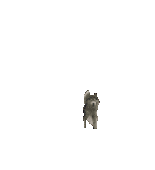 Sign: End Wolf Slaughter!
http://www.SaveWolves.org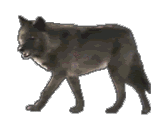 Save the Seals from these Cruel Barbarians
Boycott Canada and Tell them Why:
http://www.ProtectSeals.org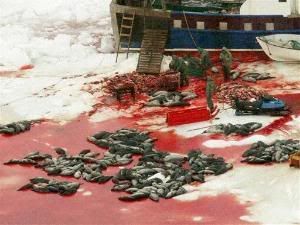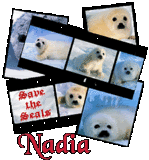 Time is Running Out for Polar Bears!
http://www.PolarBearSOS.org
Save Chimpanzees from the
Bushmeat Trade
click here to take action
Boycott EVERYTHING China
Sign the Petition: Boycott China
Help End China's Animal Terror [click]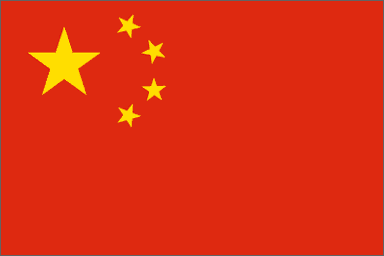 Click on the Flag for Video of Family Past Times
BOYCOTT CHINA UNION
[
click
]
Primates, big cats, raccoons, wolf-hybrid, deers, hippopotamus, and other animals are being kept in primordial cement slab habitats within a facility that has failed to meet even the most minimum of standards of animal care imposed by the Animal Welfare Act. PLEASE CLICK/SIGN PETITION!
Huntingdon Life Sciences (HLS) is one of the world's largest animal testing labs, operating two facilities in the UK and one in the U.S. Every day inside its walls, thousands of animals suffer and die in painful and unnecessary tests. [
Click to Learn More
]
Don't Buy Puppies from Pet Stores or Breeders
Sign the Pledge to Stop Puppy Mills. End the Cruelty! [click here]
DOGS ARE PACK ANIMALS
THEY BELONG INSIDE YOUR HOME!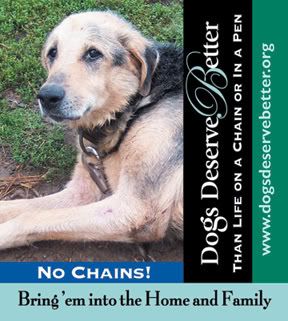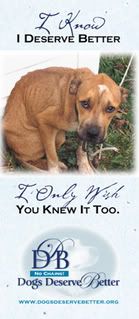 Chained by the neck, they exist without respect, love, exercise, social interaction, and sometimes even basic nourishment. They live as prisoners, yet long to be pets. Chaining is not only inhumane for dogs, but has taken a severe toll on this nation's children as well. In the period from October 2003 through July 2007, there were at least
Click for More
]
Suspend Michael Vick Petition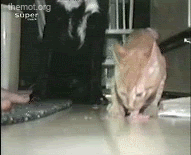 VOICE OF THE VOICELESS
by Ella Wheeler Wilcox, 1913
Poet Laureate of Humanity
I am the voice of the voiceless:
Through me, the dumb shall speak;
Till the deaf world's ear be made to hear
The cry of the wordless weak.
From street, from cage, and from kennel,
From jungle and stall, the wail
Of my tortured kin proclaims the sin
Of the mighty against the frail.

For love is the true religion,
And love is the law sublime;
And all that is wrought, where love is not,
Will die at the touch of time.
And Science, the great Revealer,
Must flame his torch at the Source;
And keep it bright, with that holy light
Or his feet shall fail on the course.

For he who would trample kindness
And mercy into the dust--
He has missed the trail, and his quest will fail:
He is not the guide to trust.
Oh shame on the mothers of mortals
Who have not stopped to teach
Of the sorrow that lies in dear, dumb eyes,
The sorrow that has no speech.

Oh, never a brute in the forest,
And never a snake in the fen,
Or ravening bird, starvation stirred,
Has hunted his prey like men.
For hunger, and fear, and passion
Alone drive beasts to slay,
But wonderful man, the crown of the Plan,
Tortures, and kills, for play.



He goes well fed from his table;
He kisses his child and wife;
Then he haunts a wood, till he orphans a brood,
Or robs a deer of its life.
He aims at a speck in the azure;
Winged love, that has flown at a call;
It reels down to die, and he lets it lie;
His pleasure was seeing it fall.

The same force formed the sparrow
That fashioned Man, the King;
The God of the Whole gave a spark of soul
To each furred and feathered thing.
And I am my brother's keeper,
And I will fight his fight,
And speak the word for beast and bird,
Till the world shall set things right.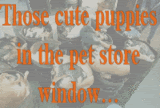 Save The World - One Click At A Time!
On each of these websites, you can click a button to support
the cause; each click creates funding, and costs you nothing!
Bookmark these sites, and click once a day!


Click here to post this on your page or 'blog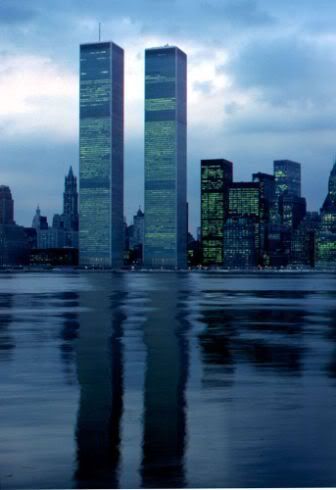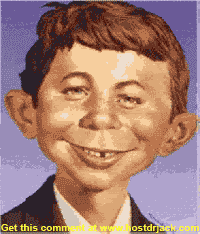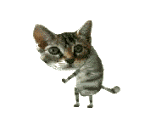 Joined
Jan 27, 2004
Activist Aspirations
Enthusiastic
Here for
Support a Cause
Group Host of
Groups
A Dog-Gone Good Natural Pets Group, A WOMANS BEAUTY & HEALTH CRUELTY FREE!, ANIMAL HOTSPOT...THE INFORMATIVE PLACE, ANIMCORD: Would you like to save abandoned animals?, ANTI-FUR SOCIETY, Abolish Animal Abuse, Activists Against Factory Farming, Amnesty International...Redux, Animal Activists, Animal Angels - HeartReach, Animal Fanatics, Animal Legal Defense Fund, Animal Lovers, Animal and People in Need more »
Hometown
New York, NY
Homepage
http://my.care2.com/iheartdogs
Birthday
Aug 10
About Me
I hardly read my Care2 messages, you may contact me via Facebook: http://www.facebook.com/NadiaNYC

As much as I love the Care2 community, my participation here is limited to C2NN (news) and Petitions. I find that Facebook is a better venue in reaching the masses to change hearts and minds. Please join me in raising more awareness and giving the animals a voice.

I love: my family (including my 2 spoiled dogs), friends, my job, people who can empathize and care about others and the world around them, people who read, question, debate and think.

I loathe: ignorance, bigotry, apathy, cruelty, arrogance, and religious fundamentalism. I also do not trust people who don't laugh and those who don't like animals. (there's got to be something wrong with them!)
Introduce yourself to Nadia
Lifestyle
Activist Aspirations
Enthusiastic
Political Leaning
Liberal
Wild Fact About Me
I stepped on a sea urchin once, :-( I taught my dogs to do 3 card monty :-)
My Philosophy
Carpe diem!
What Gives Me Hope
Meeting people who care as much as I do.
If I were Mayor, I'd make the world a better place by
-Make animal cruelty a felony.
-Fur will be illegal.
-Every animal, child & elderly will never be hungry or homeless.
-Pedophiles and serial killers will replace animals for medical research.
-Every citizen that falls under my rulling will go VEG!
What/who changed my life and why
9/11. Enough said.
Favorites
Quotation
"If there are no dogs in Heaven, then when I die want to go where they went." -Will Rogers
Introduce yourself to Nadia
My Butterfly Rewards
Most recent activity (up to 500 gifts shown)
---
I've earned Butterfly Credits