"Stop the abuse and slaughter of our horses"

Clifton, CO, USA
female, age 79
single, 2 children
Speaks: English
Joined Jul 7, 2006





June 3,2008

Sorry it has taken me so long to post an update on things here. I have been having computer problems. Finally decided maybe I had better call the cable company and find out what is going on with the puter. Turns out one of the dogs had chewed the cable in the back yard.
Gotta love 'em!

Happily, there is good news to report on Peaches. She is doing amazingly well. She has a leg again. It's kinda weird looking and misshaped. About three times the size of her otherr leg. But we tell her she's still a beauty queen.

The vet said to work her in the round ring, then in a couple of weeks we can start light riding. He is really amazed at her progress. I told him a lot of people were praying for her. He said, well it must be working. Something is sure helping her.

Thank you so much for you care and prayers.
Gwen
-----------------
April 21,2008
Maybe some day I will have something good to say. Maybe. Our mare, the one we were getting ready to send for barrel trining got her leg caught in the fence and de-gloved her leg to the bone. The only reason she is still alive is she didn't tear the rear tendon. Other than that she was just standing on bone. We are fighting hard to save her....but it is still iffy. Please say a prayer for our Peaches.



"Why should man expect his prayer for mercy to be heard by What is
above him when he shows no mercy to what is under him?"








August 5, 2007 - Dusty is a little better...we hope...at least he is walking. Thought he was going to need crutches there for a while.
We have removed his booties as his hooves are growing - it becomes a battle to remove them and put them back on.
We have pulled him off pasture for a few days to regulate his food intake and rest his feet.
He gets vinegar in his water now. That's supposed to help. It's going to be a long journey, but thank God he is doing as well as he is. It could be so much worse.

August 20, 2007 Dusty- Well, I don't know. Some days are good, some are bad. Time will tell I guess. He seems much better for a few days, then today when I went out to feed, he was shifting his weight from one foot to the other. Not a good sign. Tells me there is still a lot of pain going on. I don't see the abcesses any more...could be working their way to the top of the hoof. Ugh. That's the Norm. The laminie don't look as swollen... Just hoping and praying. Had his feet trimmed again last week. The Ferrier said his feet look much better. And he isn't cresty under the mane. So...we can only hope.

August 30,2007...Here we are, Labor Day week-end. Tuesday Congress will back in session. At least until their next recess.
At any rate, I won't be around as much, but you will be in my thoughts and I will stop by as often as I can.
Dusty is doing GREAT....Thanks to every one for good wishes and prayers. I know all the positive energy helped him. He says thank you to all of you. G

Sept 3,2007 Yesterday was bath day. We gave all the horses their baths, did manes and tails. Dusty loved it, he likes his showers. Feet look good, he shines like a new penny, and we acutually got his white feet white again. YAY....

GOD CREATED THE PERFECT HORSE...THEN PAINTED HIM GOLD.


http://www.caldavid.com/911/911.swf

Sept 19,2007
This year is the scheduled round-up for our Little Bookcliffs Wild Horse Herd. I belong to Friends of the Mustangs. A group dedicated to helping and preserving our wild horse herd. They will gather 50-60 wild horses. To date we have brought down 37 horses. The Freeze Branding is Friday. The Auction is Saturday. These are well cared for and well loved horses. Our 2007 foals are on our web page.
http://FriendsoftheMustangs.org There are 18 Foals this year. Take a look.




September 22, 2007 The Vet was out yesterday checking on one of our other horses who got a clean bill of health. While here, he checked Dusty. Still foundered. but feeling a little better. He likes the trim the Ferrier is doing... Put Dusty back on Bute as he is still in obvious pain. Will come out around the end of the week and do X-rays to see how much rotation we have. It's back to the soaks and booties. He thinksthe founder is chronic....that's not good news. Keep Dusty in your prayers. I really don't want to lose him.
http://www.youtube.com/watch?v=JLqVImPghO4
A beautiful video by John Holland for those who haven't seen it or would just like to see it again.









JANUARY 18, 2008 As many of you know we had to put our dog to sleep the day before Thanksgiving. We appreciate all the messages of condolences we received from warm supporting friends. He will never be forgotten....he will always be loved for the wonderful friend he was for 12 years.
MAX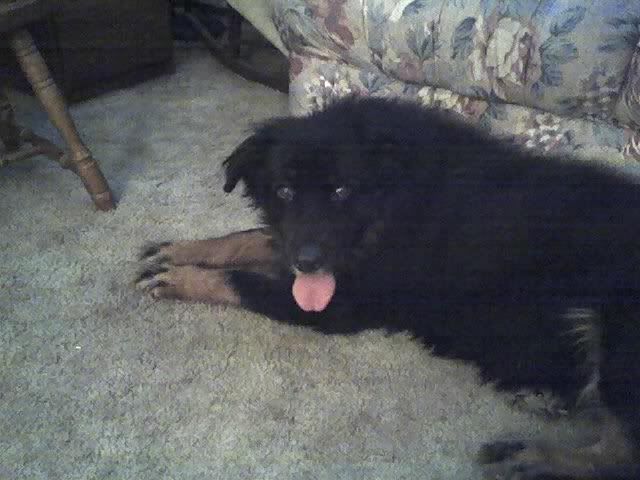 Joined
Jul 7, 2006
Activist Aspirations
Rabid
Here for
Meeting Friends, Support a Cause
Group Host of
Groups
"SAVE OUR WILD MUSTANGS & OUR HERITAGE & STOP SLAUGHTER", Abolish Animal Abuse, Canine Concerns: Stop Puppy Mills / Dog Chaining & Fighting, Defenders of Wildlife, Freedom Square, HSUS-The Humane Society of the United States, International Society for the Prevention of Cruelty to Animals, Little Seniors Last Hope Rescue, SHARING AND CARING, Standing Up For Animal Rights, The Haunted House, Until they are Safe - People Against Horse Slaughter, Wolf Mountain Sanctuary
Hometown
Indianapolis, Indiana
Homepage
Birthday
July 07, 1940
About Me
I am an animal lover, I can't think of an animal I don't like. But my passion is horses. I own three horses, and a new baby colt. Sometimes I like people, but mostly I love God's fur bearing creatures.
Introduce yourself to Gwen
Lifestyle
Activist Aspirations
Rabid
Political Leaning
Depends
Wild Fact About Me
My Philosophy
First, Do no harm....
What Gives Me Hope
Birth..All forms, whether it be a new baby, a foal, or spring buds on trees
If I were Mayor, I'd make the world a better place by
Stop minding other peoples business and take care of the things that need taken care of in my own backyard
What/who changed my life and why
My Grandfather, he was a truly good man
Favorites
Quotation
Be not Afraid
Introduce yourself to Gwen
My Butterfly Rewards
Most recent activity (up to 500 gifts shown)
---
I've earned Butterfly Credits