"~ Ka Sui~ Sha~Spirituality exsist on behalf of own merrits- religion has nothing to do with it. JZ"

Belgrade, Serbia
female
married
Speaks: Spanish-not fluent, English, Serbo-Croatian
Joined Feb 7, 2005





"Blind ones are followers-those who see are leaders on their own!" J
.
Z
.
~Life is not measured by the number of breaths we take, but by the moments that take our breath away.~

~To give pain is the tirany, to give happines is a true empire of beauty~


***
The song of a humpback whale (mp3)
recorded by biologists off Bermuda in 1970. (Courtesy of Roger Payne) ..

see my page on MySpace.com

Alert 4 "stray" Dogs- Global call 4 help! -

Ongoing ActionS!


(KEEP IN MIND) DNA testing reveals a lot of 'fake' fur to be from cats & dogs:
http://www.heathermillsmccartney.com/dogcatfur.php
http://www.animalaid.org.uk/education/fur.pdf info leaflet
http://www.caft.org.uk/factsheets/cats-and-dogs.html CAFT factsheet


Personally, I would not give a fig for any man's religion whose horse, cat and dog do not feel its benefits. Life in any form is our perpetual responsibility. ~S. Parkes Cadman
"If ur dating a vegan, raise ur hand.. if ur not dating a vegan, raise ur standards!!"-VeganBarbie



***I won't eat anything that has intelligent life,
but I'd gladly eat a network executive or a politician. ~Marty Feldman
*You put a baby in a crib with an apple and a rabbit.
If it eats the rabbit and plays with the apple, I'll buy you a new car. ~Harvey Diamon


**

Man is the only creature that consumes without producing. He does not give milk, he does not lay eggs, he is too weak to pull the plough, he cannot run fast enough to catch rabbits. Yet he is lord of all the animals.

~George Orwell,

Animal Farm Ask the experimenters why they experiment on animals, and the answer is: "Because the animals are like us." Ask the experimenters why it is morally okay to experiment on animals, and the answer is: "Because the animals are not like us." Animal experimentation rests on a logical contradiction. ~Charles R. Magel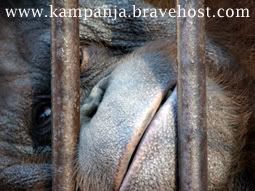 Hunting is not a sport. In a sport, both sides should know they're in the game.
~Paul Rodriguez

>>>
www.RapeCrisis.co.uk
<<<
PLEASE DO NOT BUY DIAMONDS!

www.blooddiamondaction.org
"If fifty million people say a foolish thing, it is still a foolish thing."
--Anatole France
Joined
Feb 7, 2005
Activist Aspirations
Rabid
Here for
Meeting Friends, Professional Connections, Support a Cause
Group Host of
Groups
$ Boycotts $, (APPPN) A Petition Posting & Peoples Network, 9/11 CONSPIRACY ! ! !, Abolish Animal Abuse, Activists & Damn Proud Of It!, Activists 4 Abandoned Animals, Activists Against Factory Farming, Addressing Global Warming, Amnesty International, Care2 Feedback and Suggestions, Debunking internet hoaxes and rumors., Demanding Tougher Penalties for Animal Abuse!, Einstein's Universe, Elephant Lovers more »
Hometown
Philly
Homepage
http://www.c4sain.bravehost.com
Birthday
April 11
About Me
~Dragon Heart 4 Animals~

I always have one phrase in mind when I am not sure should I forgive or forget>
" By doing too much forgiving in realtion to one person who did U wrong many times- U are being unfair to those who never did U wrong."
This helped me many times to realise that sometimes is better to forget than to forgive (JeZa)
( December 2006.) :
When I, as a voice of voiceless, came to cyber activistnetwork4animals and when I brought up to light the horrid hidden story of barbaric treatment of Animals in Serbia, my now very close friends were amazed by the documentation and stories from witnesses…
It was very hard on start, to explain the situation in Serbia and now I am very relieved that I have friends from the world and now after several years, friends from Serbia to work together on animal liberation in this European country. Even though Serbia is not in EU- Animals have no nationality and we must help them by all legal means we can use.
Thank YOU ALL on Your dedicated help and trust.!
JeZa

more about me:
I am responsible and I prefer fair play.
I have very strict boundaries and I dont like "cry babies"
discipline and order..thats me :-)
all I ask from others is to act like civilized people when they are near me...
My goals are very clear and I dont waste time on explaining things to people who posses "windy mind"...

P.S... if I dont have something appropriate to say-on given subject
I keep my mouth shut.

I "excercise" (hehe) Ninjutsu
(all tho I am "born with" Tai-Jutsu), my fav "weapon" is SHURIKEN
(as I like 2 keep my enemies on distance... :-)

Also I fully respect Animals!
-Animals are my friends... I don't eat my friends.
Introduce yourself to jelena
Lifestyle
Activist Aspirations
Rabid
Political Leaning
Wild Fact About Me
*Dragon 4 Animals*
little *hint*: Animals living
near you, especially over the winter- have a difficult time to find food, don't forget to provide some food 4 them, pay attention to birds… that time is very hard for them. Make them a little " shop-stop-cafe" on your terrace or window. You can put some seeds or fruits, bread… or vegetables from lunch…
My Philosophy
"...and now,It's NOT enough 4 me just 2 write about it- I have to do something about it... RIGHT NOW"

*Mankind brought extinction to large number of species, not with its need to eat everything that moves on this planet, but with this need for power exhibition on now, weaker ones.
I understand the need of someone to eat just now cough fish- as that was his only resort of energy on freezing pole, but really can't understand "sport fishing" actors, who stress someone just to show that they can have them anytime, Isn't that frightening?
And then sport hunting, as a form of modern mass execution, old expression of that maniacal need of mankind to play Gods role.
To give, or to take away life, to control…
Control is not needed when it comes to living beings, as they have lived on this planet for quite a while; this planet we wish for is not what this planet "had in mind"...
~JeZa~
What Gives Me Hope
-We cannot talk with [animals] as we can with human beings, yet we can communicate with them on mental and emotional levels. They should, however, be accorded equality in that they should receive both compassion and respect; it is unworthy of us to exploit them in any way.
-"There comes a time when one must take a position that is neither safe,
nor political, nor popular, but he must take it because his conscience
tells him that it is right."
Martin L. King, Jr
--"We don't inherit the land from our ancestors; we borrow it from our children."
***
So you run and you run to catch up with the sun but it's sinking
Racing around to come up behind you again.
The sun is the same in a relative way but you're older,
Shorter of breath and one day closer to death.
If I were Mayor, I'd make the world a better place by
I want 2 STOP "industrial world" on, at least two minutes - so that every human being can hear Mother Nature's Sream for Help!
What/who changed my life and why
Situations and life & Ninjutsu(Kuji-in) ...
Favorites
Quotation
"The only thing necessary for the triumph of evil is for good men to do nothing."
politician Edmund Burke
Introduce yourself to jelena
My Butterfly Rewards
Most recent activity (up to 500 gifts shown)
---
I've earned Butterfly Credits