"Isn't man an amazing animal? He kills wildlife - birds, kangaroos, deer, all kinds of cats, coyotes, beavers, groundhogs, mice, foxes, and dingoes - by the millions in order to protect his domestic animals and their feed. Then he kills domestic animals by the billions and eats them. This in turn kills man by the millions, because eating all those animals leads to degenerative - and fatal - health conditions like heart disease, kidney disease, and cancer. So then man tortures and kills millions more animals to look for cures for these diseases. Elsewhere, millions of other human beings are being killed by hunger and malnutrition because food they could eat is being used to fatten domestic animals. Meanwhile, some people are dying of sad laughter at the absurdity of man, who kills so easily and so violently, and once a year sends out a card praying for 'Peace on Earth.'"
C. David Coats
Beware of the man who works hard to learn something, learns it, and finds himself no wiser than before. He is full of murderous resentment of people who are ignorant without having come by their ignorance the hard way.
Kurt Vonnegut
Would you allow this to happen to your child?
Are you horrified by the very thought?
Then
How can it be OK to do this to any other living being?
Can we agree that only a very sick, twisted
SON-OF-A-BITCH
could ever do something so horrible?
Is this really the kind of world you want your child to grow-up in?
You are the only one who can stop this madness!
Will You?
"Human beings are the only creatures on earth that claim a God and the only thing that behaves like it hasn't got one." - Hunter S. Thompson
"Never be afraid to do what's right, especially if the well-being of a person or animal is at stake. Society's punishments are small compared to the wounds we inflict on our soul when we look the other way." -- Martin Luther King, Jr.



An act of kindness is never forgotten.
This will make your day.

http://www.wimp.com/helpinganimals/
"The purpose of life is not to be happy. It is to be useful, to be honorable, to be compassionate, to have it make some difference that you have lived and lived well."

Ralph Waldo Emerson
I fear my conscience far more than I fear death.
T. Layman
Why should man expect his prayer for mercy to be heard by What is above him when he shows no mercy to what is under him? ~Pierre Troubetzkoy
"Compassion for animals is intimately connected with goodness of character; and it may be confidently asserted that he who is cruel to animals cannot be a good man." -Arthur Schopenhauer
The Animal Legal Defense Fund, along with PETA, has filed the nation's first lawsuit against ag gag legislation, taking Utah to court for infringing on the free speech rights of activists, investigators, and journalists by criminalizing undercover investigations at factory farms. Utah's ag gag law aims to prevent animal advocates and law enforcement from collecting evidence of egregious and illegal abuse of animals on factory farms.




Watch whistleblower Amy Meyer being confronted by police in the video that sparked the first ag gag charge in the United States, and take action to prevent more whistleblowers from getting prosecuted by signing our petition.
Foie Gras is not Free-Speech!
The Animal Legal Defense Fund recently won a major battle as part of its lawsuit against Napa-based La Toque restaurant for violating the state ban on selling and distributing foie gras. Napa County Superior Court ruled that La Toque's claim that it was illegally selling foie gras as a form of "protest" did not have legal merit and that selling foie gras in California is not a form of constitutionally protected "free speech." Read more about this recent victory

Learn more
Freedom for Bears at Chief Saunooke Bear Park



Eleven bears have been removed from terrible conditions in underground bear pits and now live in a new sanctuary home. The black and brown bears had long suffered at Chief Saunooke Bear Park in North Carolina, a roadside zoo that recently lost its license to exhibit the bears. Forced to live inside pits ranging from 300 to 1300 square feet and to beg for food from visiting humans, the bears exhibited signs of psychological harm, constantly pacing on abrasive concrete and repeatedly weaving their heads.

Years of local and national pressure and advocacy by People for the Ethical Treatment of Animals alerted federal authorities to the terrible bear pit conditions. And earlier this year, the Animal Legal Defense Fund sent Chief Saunooke Bear Park a letter threatening to sue for its ongoing harm to the roadside zoo's grizzlies. As a result of these combined efforts, this bear story truly has a happy ending: the bears now roam the International Exotic Animal Sanctuary, and Chief Saunooke Bear Park has shuttered its operations.

Learn more


Auschwitz begins wherever someone looks at a slaughterhouse and thinks: They're only animals.
~ Theodor W. Adorno



Legally Brief: The Greenwashing of Factory Farms
Tyson Foods is at it again, changing words rather than actions. Deceptively promoting the perception that a company's products are environmentally sound is known as "greenwashing." And that is just what Tyson has been caught doing. Tyson farms countless chickens and pigs each year, and the conditions under which these animals are raised are nothing short of brutal. ALDF notified Tyson of numerous false claims on its website, and the company quietly changed language to soften claims of being "humane" to the animals it cruelly confines and slaughters.

Meanwhile, Tyson Foods has been very public about forming a panel of advisors to consider the well-being of animals -- but has not made any actual changes to its treatment of animals. In fact, Tyson continues to rely upon some of the cruelest forms of industrial agriculture possible. Read more about Tyson's greenwashing efforts, and learn what you can do to hold Tyson accountable.
Learn more


Sad Reality for Hens on Egg Farms
Text: This hen has been de-beaked twice. More than 50% of her beak has been cut off without pain relief. When >50% of a hen's beak is removed, a portion of her tongue is cut off as well.
If you wouldn't want it done to your child, how can it be ok to do it to any other living being?
Tim Layman
Two roads diverged in a wood, and I—
I took the one less traveled by, because I figured there would be fewer assholes there to piss me off.

But it didn't make any difference.
Robert Frost

Corruption by T. Layman
Speak Out
Demand That YouTube Ban All Dog Fighting Videos
Read more at
http://theanimalrescuesite.greatergood.com/clickToGive/ars/home?ThirdPartyClicks=ERA_062613_ARS_m#MWpdIxKjD1aK8dXg.99
I think we risk becoming the best informed society that has ever died of ignorance. ~Reuben Blades
Like humans, animals are capable of suffering and have interests in leading their own lives; therefore, they are not ours to use – for food, clothing, entertainment, experimentation or any other reason.
Trouble viewing this message? View this message online> Donate now>
http://www.my-cause.com/ban_bull_fighting"> src="
http://www.my-cause.com/ban_bull_fighting/largebadge.png
" ismap="ismap" alt="Ban Bull Fighting" title="Ban Bull Fighting" border="0">

We must never permit the voice within us to be silenced. It is man's sympathy with all creatures that first makes him truly a man." Albert Schweitzer ~


PLEASE SIGN THESE URGENT PETITIONS:

Save the Goats of Khokana
Stop Killing Our Animals-Find Another Way
STOP THE BURNING OF LIVE BULLS-END SADISTIC FIESTAS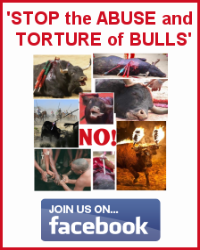 I am not a religious man by any stretch of the imagination, but I truly hope that there is a God and a Hell and a judgement day. I will gladly accept whatever punishment I have coming.
T. Layman