"To motivate and facilitate young people toward self-discovery and global consciousness through love in action."

Tulsa, OK, USA
male, age 47
single, 5 children
Speaks: English and a little Spanish
Joined Sep 30, 2008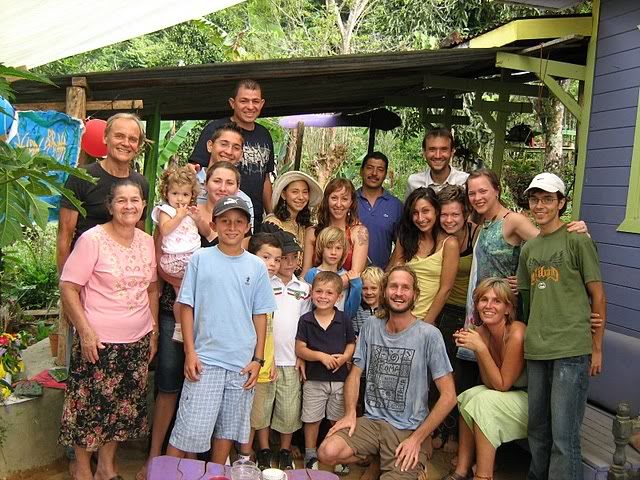 What is The Revolution Project

The Revolution Project is a program designed to change the face of the Earth by motivating and facilitating youth to build social service projects and a global network of self-sustaining communities, natural and holistic healing ,and orphanages.
The Revolution Project provides education and training in many areas, including: self-empowerment, natural healing, reading, writing, organic farming, rain forest conservation, the arts, and more.

The Revolution Project seeks to spread peace and hope throughout the world by bridging racial, political, and religious differences through love in action.

The Revolution Project provides physical, mental, and spiritual healing to children, youth, and adults.
Buy Our New Album Now to help pay off the farm in Costa Rica!
The Revolution Project
Internship Program
Online Application
Zahrah's Healed Cancer
Testimonials
Joined
Sep 30, 2008
Activist Aspirations
Enthusiastic
Here for
Meeting Friends, Professional Connections, Support a Cause, Other
Group Host of
none yet
Groups
DUO for World Peace, Facebook/Care2/CU, Healthy Cooking, Rainforest Action
Hometown
Tulsa, Oklahoma
Homepage
http://www.therevolutionproject.org
Birthday
Jan 16, 1972
About Me
Andrew Walter Allen -
From Oklahoma, USA. B.S. Social Work, Oral Roberts University; semester in Australia with School For International Training. Co-leader of this mission with wife Zahrah. Has worked with youth (including "at risk" youth) and children for 17 years. Recognized and awarded by mayor of Tulsa, OK in 2004 for his work with youth and children. Traveled Australia, New Zealand, Fiji, Canada, Mexico, Panama, Grand Caiman, Nicaragua, and Costa Rica. Fluent in English and Spanish. Professional artist for 15 years. Has sold hundreds of original paintings, designs clothing, written 4 books, over 200 songs, 6 music albums, acted in numerous television commercials, produced and directed two theatrical productions, one short film, and is in editing stage of a full length movie. Sings, plays musical instruments. Small business owner for 15 years. Competent in carpentry, plumbing, and electrical. Also enjoys, nature, bugs, gardening, hiking, and adventure, and most of all, Andrew enjoys living a life surrendered to God.

Zahrah Raay Allen -
From Minnesota USA. Married to Andrew Walter Allen. Licensed in Traditional Chinese Medicine and Shiatsu. Certified in several other styles of Oriental Bodywork and Energetic Healing techniques, as well as training and extensive experience working with Tropical Medicinal Plant Cures, Dietary Therapies, Cleansing Therapies, and other modalities of Natural Healing. A dancer from a young age, performed with several dance companies, specializing in modern dance with influences of East Indian, Polynesian, ballet, and other forms of dance. Additional talents, training, and experience include small business management, creative writing, theater, and visual arts. Zahrah teaches classes and workshops on a variety of topics. Has managed a Permaculture education center, organized and coordinated many events and gatherings, taught numerous classes and workshops, and donated her skills in healing, as well as natural medicines she made to individuals and families in need, restored and directed a community center outside Puerto Viejo de Limon, opened a healing center offering various natural healing therapies and natural remedies made from local medicinal plants. In 2009, Zahrah was completely healed of malignant cancer using 100% natural methods including complete faith in God and the miracles the Holy Spirit provides. Zahrah strives to be spiritually conscious, creatively expressive, unconditionally loving, well-balanced and to live joyfully in partnership with God each and every day.
Introduce yourself to Shaka
Lifestyle
Activist Aspirations
Enthusiastic
Political Leaning
Depends
Wild Fact About Me
The Revolution Project provides physical, mental, and spiritual healing to children, youth, and adults.
My Philosophy
We seek to live in a state of constant surrender to the Source of all life. We believe that judging other human beings is a great source of personal turmoil and pain, and has caused millenniums of prejudice, terror, and war. We do not seek to push religious or political beliefs on any other person; rather we seek to display life-changing love through lives of selfless service. We believe in the two great commandments: Love the Lord your God with all your heart, soul, and strength; and love your neighbor as yourself.
Some of our values: Love, faith, hope, peace, patience, kindness, gentleness, non-judgmental hearts, community, selfless service, and surrender to God.
Though we are not affiliated with any particular religious denomination, we are indeed servants of the Most High God, and followers of Jesus.
Our educational philosophy is based on unearthing the strengths and talents in the student andassisting him/her to use those qualities as fundamental building blocks for self-realization. Each human is created differently and possesses different talents. These talents are channels of personal enjoyment,which are keys to open doors to deeper desire for self-discovery. With a conscious desire and an active approach to self-discovery, destiny will be revealed.

We seek to assist young people in discovering who they are and who they were created to be. This process of self-discovery begins during the application process with the questionnaire, and continues throughout the internship. Our hope is that our students will continue the conscious journey of the heart throughout their lives.
What Gives Me Hope
Global Awareness and the return of Truth
If I were Mayor, I'd make the world a better place by
The Revolution Project is a program designed to change the face of the Earth by motivating and facilitating youth to build social service projects and a global network of self-sustaining communities, natural and holistic healing ,and orphanages.
What/who changed my life and why
The Bible, Napolian Hill, Anthony Robbins, Think and Grow Rich, Danial Pink, Les Brown, Anthony Kimbrogh,Ralph Waldo Emerson, Unlimited Power, Rich Dad Poor Dad, Donald Trump, An Inconvenient Truth, Why We Want You To Be Rich, Geometry of the Mind, Stolen Legacy
Favorites
Quotation
There is a revolution taking place. The battleground is the heart. The victory is love. The way to victory is to surrender. The spoils of victory are peace and joy.
Introduce yourself to Shaka
My Butterfly Rewards
Most recent activity (up to 500 gifts shown)
---
I've earned Butterfly Credits