My name is Neil. I'm 24 till August 15th. I live in Mira Loma, California with my gurl and her family.
This is my baby and me: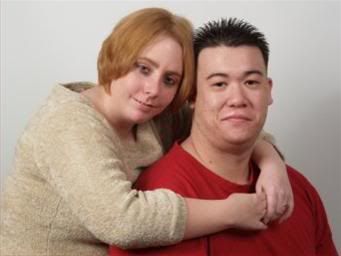 This is my gurl Danielle and Me. Her pet name is Baby Bitch and she calls me "Mr. Right"making the the lil quotations with her hands even. I mean what's up with that I am right *biggestgrin*
I'm half italian and half japanese. I grew up in Orange County California. I really easy going and usually the mediator in a rough situation showing everyone how stupid they're being. I love science and nature. I do not believe in god. I believe in science totally. And I believe in human evolution and aliens. That might sound crazy but hey somethings up with this world that isn't right. If everyone could just stop worrying about the reality "they" want us to be in, the world be such a happier place. The best two movie's to watch and learn about what I'm talking about is "What the Bleep Do you know" and "Disinformation". These are the type of subversive things that ought to be looked at by the masses before they just decide to make a decison to be miserable in this life.
My baby, Danielle is Bipolar. I support (just like her) all mental health causes. Danielle may have a serious brain disorder but she is the love of my life and I know the one I'm gonna spend the rest of my life with. Please world.....erase the stigma on mental illness, wake up to the truth of this world and realize money and materialistic things are just things. Not what this life is about.