GOP Presidential Hopefuls React to Prop 8 Ruling
And they ain't happy.
Former senator Rick Santorum, fresh from Tuesday night's sweeping caucus victories, took to Twitter to voice his displeasure regarding the 9th Circuit upholding that Proposition 8 is unconstitutional. He wanted his social media followers to know that under a Santorum presidency he wouldn't be letting activist judges follow the Constitution make such decisions: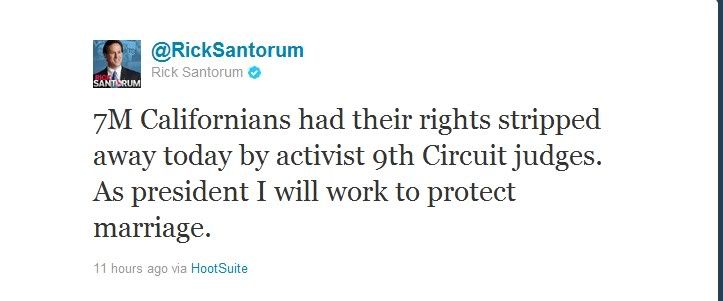 Just to clarify: the ruling makes it clear that under the 14th Amendment the people of California, acting as lawmakers, didn't have the right to bar gay couples from the term marriage and all its social and cultural significance for the sole purpose of effectively enshrining that same-sex unions are less than heterosexual ones. The opinion, grounded in established law, was extensive on that point. There was even a Frank Sinatra reference.
Moving on. The oft-married former House Speaker Newt Gingrich slammed the decision as being an example of "judicial supremacy" (a really dull addition to the Bourne series), and vowed he would end this problem were he to be elected Divorcer-in-Chief:
The big surprise of the night came from Mitt Romney however. He didn't tweet but went so far as to release a statement — because he's really, really, really serious about the marriage issue. FYI evangelicals: he's so not into gay marriage and would totally just elect judges who agree with him. Says Romney (emphasis added for snark):
"Today, unelected judges cast aside the will of the people of California who voted to protect traditional marriage. This decision does not end this fight, and I expect it to go to the Supreme Court. That prospect underscores the vital importance of this election and the movement to preserve our values. I believe marriage is between a man and a woman and, as president, I will protect traditional marriage and appoint judges who interpret the Constitution as it is written and not according to their own politics and prejudices."
Ah, that awkward moment when you completely undercut the point you were trying to make.
As to former congressman Ron Paul — so far, no comment.
I did check former candidate Rick Perry's feed, Rep. Michele Bachmann's social media, and Herman Cain's press, because who could resist? Sadly, now that they're not running for President they just don't seem to care enough to put out a statement about gays and their so-called threat to traditional marriage.
Related Stories:
9th Circuit Rules Prop 8 Trial Tapes to Stay Sealed
California Supreme Court Hears Prop. 8 Standing Issue
Santorum: Gay Partnerships Don't Benefit Society