Marriage Equality: It's a Mainstream Value (Infographic)
Has marriage equality for same-sex couples become a mainstream value? This powerful infographic from the Center for American Progress demonstrates that, based on a collection of current polling data, yes it has: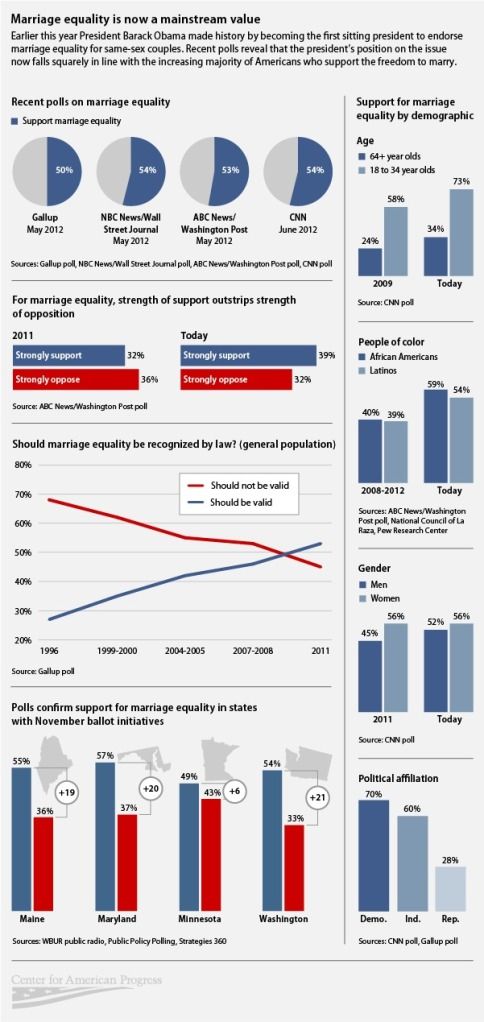 The infographic analyzes several recent polls and brings them together to spell out how marriage equality isn't just a Democratic or liberal agenda piece but rather has broad support among the general public and, perhaps most interestingly, in states that this November will go to the ballot and decide whether to codify bans on marriage equality, or in fact legalize same-sex marriages.
The infographic and analysis also helps to put into clear terms how in just a decade a majority of Americans have evolved on the marriage equality issue, going from staunch opposition to proud affirmation. Factoring in President Obama declaring this year that he supports marriage equality, the first time any sitting POTUS has made such a declaration, and the view of gay equality in America certainly looks to be brightening.
Related Reading:
Half of Americans Support Same-Sex Marriage
Gay Marriage and Obama: International Reaction
POLL: Most Americans Glad Obama Endorsed Gay Marriage
Image used under the Creative Commons Attribution License with thanks to Marc Love.